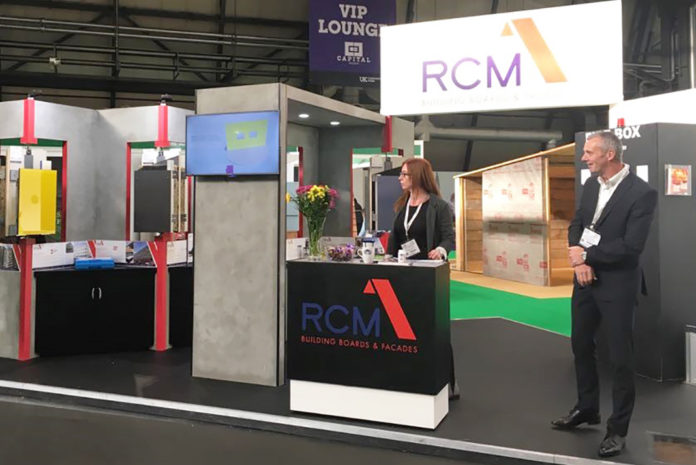 RCM have showcased an "attention-grabbing" stand at Timber Expo in Birmingham this year, part of the UK Construction Week, which was held during 9-11 October 2018.
All 24m2 of the stand was decked out with RCM's offerings from building boards right through to the façade solutions supplied, with a focus on the timber frame market; with particular attention paid to fire-rated solutions. The main stand itself was constructed partially using Cemboard, RCM's own high-performance cement-bonded particle building board.
This is the second time RCM has attended this show. Exhibiting on the same stand as 2017, a big change from last years' show was the removal of the corner section of the stand, allowing visitors to walk through and take a closer look at the colourful displays.
An array of the full RCM façade portfolio was displayed, highlighting the different colours available, as well as different materials and finishes. Further, there were also two Dynamic Cladding samples on show, one glass and one natural stone. This cladding is offered exclusively by sister company SPS Facades. Dynamic cladding is said to offer security assurance through comprehensive fire and blast testing.
RCM's Supertech Weatherboard was displayed on the stand by cascading coloured planks down the wall and into the floor behind a Perspex window.
One of the main highlights, according to visitors' comments, were the eight revolving through-wall solutions, made up from sheathing board right through to the façade and displaying RCM's full material portfolio. It provided visitors with a real understanding of how the different materials fit together, as well as being tactile objects which could be further explored by rotating the models and looking at them from different angles.
An additional new special attraction this year was the Fire Box, where visitors could look inside to find two further displays with simulated fire effects. These were fire-rated through wall solution displays which both conformed to a two-hour fire-test. One was an internal non-load bearing display conforming to BS 476: Part 22:1987 and the second was an external load bearing example conforming to BS 476: Part 21:1987. This visually stimulating display drew attention to the fact that RCM are able to supply various fire-rated complete through wall solutions ranging from 60 mins – 120 mins. Built on RCM's wealth of knowledge and experience, these solutions conform with the strict requirements of building regulations in the UK and Europe.