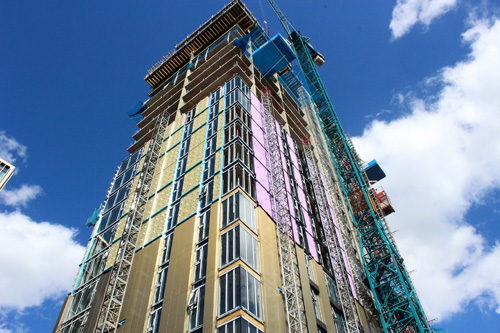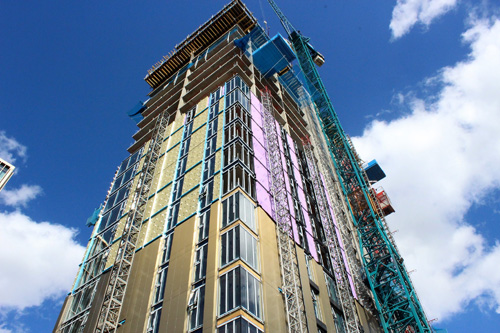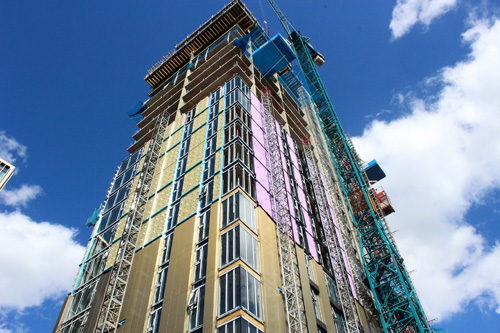 Building envelope contractor Longworth is working with SFS in the construction of two iconic towers in the heart of Birmingham: one clad in brass, the other silver. The proposals will deliver a mix of luxury apartments and retail spaces.
The striking Left Bank development in the city centre's popular West End will create the tallest exclusively residential building in Birmingham when it is completed in summer 2019.
The first 22-storey building will accommodate 189 luxury apartments and 3,580m² of ground floor retail space, with the second phase being a 31-storey residential tower with retail space too.
The development is a prime location for residents as it's within easy walking distance of the major attractions and landmarks of central Birmingham. It will also offer amazing city views as well as the relaxing canals, bars, restaurants and shops that align Broad Street. Due to Birmingham's mix of modern and historic buildings, Glancy Nicholls Architects designed these two towers in response to the Grade II listed building, the adjacent Brasshouse building, and the industrial heritage of the site.
Longworth was appointed by main contactor Wates Construction at an early stage and worked closely with them, alongside the architects, for over a year in the pre-construction phase of the project. This allowed for expert building envelope input during a period in which there were numerous specification changes and as well as the overall design for the first tower. The final choice of surface finishes for the envelope demanded high-quality fastening solutions that would stand the test of time and perfectly complement the crucial aesthetic goals.
The partnership agreed on the supply and installation of an Alucoil Larson ACM FR – Brass Brushed panel with a fire-rated mineral core. This drained and back-ventilated rainscreen cladding system for Tower 1 was fitted with an Nvelope bracket and rail system and powder-coated SLA3 frame fasteners, SLA 5 fasteners, as well as SX3 and SX5 A4 (grade 316) stainless steel fasteners from SFS.
Ben Parker, business development manager at Longworth, commented: "We're very proud to be appointed on the Left Bank development contract for cladding. We have brought a more creative project approach to provide a solution for an application that would usually be fixed with a rivet. Instead, we chose to use self-drilling fasteners from SFS for several key reasons.
"Firstly, these fasteners enabled us to overcome the architect's concerns regarding the colour-match of the fixings to the ACM panels. We collaborated with SFS at an early stage to produce a number of fastener samples to get the closest match possible. Despite the challenge of the panel board's marble effect which is said to shimmer in different light, the tenacity and determination of the SFS team to deliver the right powder coated fastener result was impressive, and on the sixth version we knew we'd achieved the perfect match.
"We used the SLA5 fastener to help fix the panel to the frame as this fastener provided significant time-saving benefits over pre-drilling for rivets, and they offer a secure installation with prevention of overdriving and unwinding. SFS supported us by making several pull out tests on site to prove the fasteners' effectiveness. We also used SX3 and SX5 fasteners in A4 (grade 316) stainless steel fasteners from SFS for their improved corrosion resistance."
Graeme McIlroy, SFS regional sales manager, commented: "It was a pleasure working with Longworth on this prestigious project. It's a perfect demonstration of our powder coated fasteners capability which enables over 200 RAL colours. For this project, we were happy to go that extra mile to ensure a truly bespoke finish for our powder-coated fasteners and ensure the architects vision of the building could be fully realised. Tower 1 looks set to be a stunning building and I'm sure Tower 2, which will be clad in shades of silver, will make a striking contrast."