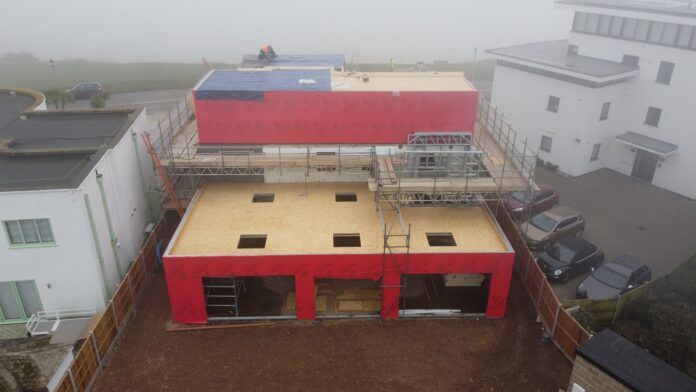 The Wraptite external air barrier system from A. Proctor Group, selected as part of the redesign and extension of a residential property on the Essex coast, will improve energy efficiency and protection from the elements.
Designed by AFT Design architects, the works comprise a significant conversation project. The existing detached residential dwelling on the clifftop at Frinton on Sea was partly demolished and extended with large attractive single-storey extensions constructed to the rear elevation and roof level.
Both extensions comprise a light gauge steel LGS panelised system, including a sheathing board and Wraptite installed by Nexus Modular.
In addition, a proprietary Wetherby rendered cladding system will subsequently cover the LGS panelised system.
Bill Attwell, director of Nexus Modular, explains why Wraptite, the only self-adhering vapour permeable air barrier certified by the BBA, was selected. "We chose Wraptite for the breather membrane because of its strength and durability. In addition, the self-adhesive fixing of Wraptite, rather than the traditional staples and mechanical fixing, assisted with the durability in the high wind conditions prevalent on the cliff-side location.
"The erected LGS frame with sheathing and breather membrane had to be left exposed for some weeks until the render cladding system was installed, exposing it to the elements on an exposed clifftop site.
"The self-adhesive application of Wraptite simplifies the installation and provides a totally durable solution. We will be using Wraptite on future projects."
Wraptite combines the critical properties of vapour permeability and airtightness in one self-adhering membrane. As a result, this approach saves on both the labour and material costs associated with achieving the energy efficiency demands in buildings.