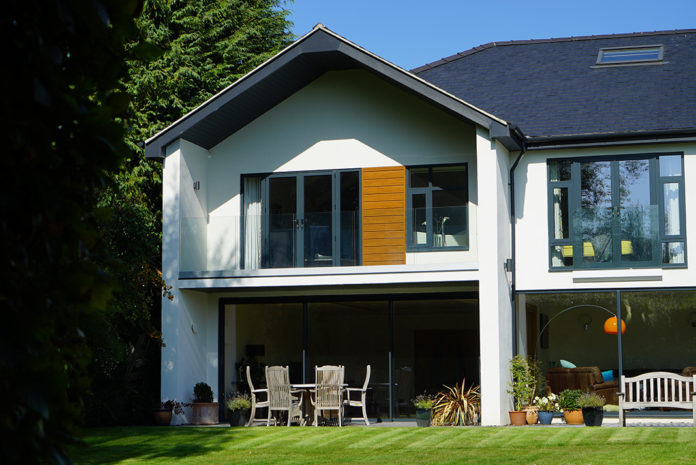 Freefoam Building Products X-Wood Cladding has been used as a sleek contemporary feature to the front and rear elevation of a new home on the outskirts of York.
With such an individual design and high specification, the owners wanted to ensure all exterior components were robust, stylish, long lasting and hard wearing.
Homeowner Peter Jennings explained: "We worked with a local architect on the original concept, but used our own experience of property development for the details of the property. The cladding feature was originally specified as timber, but with a busy professional and home life it was critical to make this home as low maintenance as possible. We were introduced to the Freefoam cladding range from a local supplier, Revival Building Products, and immediately liked the X-Wood range. We thought the woodgrain finish was exactly right for our project and the Oak shade complemented perfectly the white and grey external elements."
X-Wood is an PVC-U exterior cladding that looks and handles like wood, but without all the usual maintenance issues associated with timber. Freefoam has used its manufacturing expertise to design and produce a 16mm high performance cladding board comprised of three different layers – a heavy duty through coloured plastic foam core, covered with a durable plastic skin and then coated with Renolit film, which creates a hardwearing, stable material with a subtle woodgrain effect finish.
The range is available in a choice of six contemporary colours from subtle white, cream and greyed cedar to traditional oak and more dramatic anthracite grey and wine red, all with a ten-year guarantee. Suitable for both commercial and domestic newbuild or renovation projects and with its high-performance credentials X-Wood can also be successfully used in coastal and highly exposed areas.
Colin St John, commercial director, explained: "We have seen the market appetite for PVC cladding steadily increase and are delighted to see this high- performance durable product being used to such great effect. Ideal for architects, specifiers and homeowners, X-Wood with its attractive finish is the perfect product for any development. We have developed X-Wood to complement our other cladding products and to give our customers the opportunity to approach new and growing markets."
View the video below: