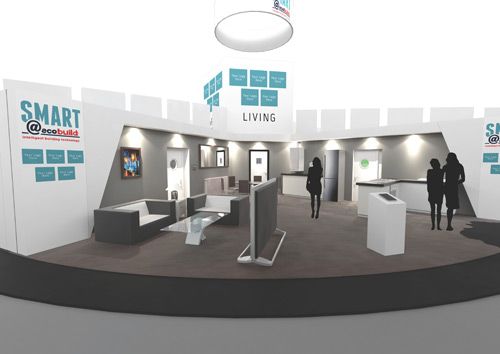 Ecobuild has unveiled a SMART centerpiece for 2016's event with the announcement that the next show will include a new feature focusing on the growing industry trend of smart building technologies.
SMART will be the focal point of the Energy section of the exhibition, with live room sets demonstrating how smart technologies can work together to bring greater efficiency in real world settings. As well as a domestic living room, visitors will be able to explore a retail environment, office, garage and bathroom to see what the latest intelligent building technology can deliver.
According to the shows organisers, the development of the feature is a direct result of demand from show visitors, which totalled over 40,000 industry professionals at 2015's event. Martin Hurn, event director of Ecobuild, said: "In a survey of Ecobuild visitors, 72% want to learn about new services and technologies. Our new SMART feature will bring this to life and fulfill that need.
"This exciting new feature will not only provide a wide variety of ways for visitors to see and interact with intelligent building technology in live settings, it will also see exhibitors collaborating to show their products working together to provide maximum efficiencies. This is how the full benefits of this technology are realised and SMART will be a unique platform to showcase it to the industry."
Located around the central cluster of live room sets will be 12 hubs of excellence, which will showcase exhibitors who are "bringing innovative smart technology to a wide range of end users and commercial clients".
SMART has been designed with architects, house-builders, specifiers, developers, energy assessors and sustainability specialists in mind to allow them to learn how smart building technology can revolutionise how buildings are controlled. In addition, the feature is being created for installers attending Ecobuild 2016 to show them how integrating smart building technology can provide cost savings and carbon reductions for clients, as well as maximum convenience and added value to their businesses.
Ecobuild 2016 will take place from March 8-10 2016 at London's ExCeL.