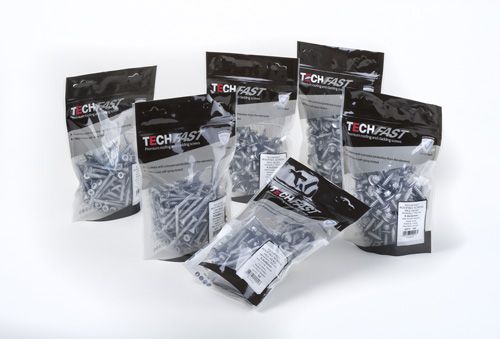 ForgeFix is marking the launch of its TechFast range with an exclusive competition for Roofzine & RCI readers. On offer is the chance to win a bundle of products worth £250 from across its range of fixings, fastenings, drill bits and hardware. 250 Roofzine and RCI readers will also receive free bags of Techfast screws.
ForgeFix says the TechFast screws have been specifically targeted at the roofing and cladding market and draw on the latest advances in screw design and materials, as well as the company's expertise as one of the UK's largest trade only suppliers of fixings and fasteners.
Mike Smith, sales and marketing director at the business, said: "Over a track record spanning more than thirty years, ForgeFix products have become a trusted choice for trade professionals in a range of areas. Our portfolio already includes increasingly class-leading brands such as TorxFast woodscrews and the Lightning Bolt multi-purpose, self-tapping anchor. TechFast aims to build on that. This range of screws has been carefully considered, tailored and developed to deliver maximum benefits for the roofing and cladding user."
Amongst some of the most notable benefits offered by the TechFast range, ForgeFix lists an innovative Elementech coating which has been salt spray tested to 1,000 hours for maximum corrosion resistance.
Different screws also offer different fit for purpose features such as self-drilling points to ensure a quicker fix, Torx heads for a firmer drive and reduced cam-out, and integral flange heads with rubber washers to provide a totally waterproof seal.
The TechFast range includes heavy and light duty, sheet to timber, sheet to sheet (stitching) and timber to steel screws in a comprehensive selection of sizes.
To mark the launch of its new TechFast range, ForgeFix is staging an exclusive competition with RCI. On offer is the chance to win a bundle of products worth £250 from across ForgeFix's range of over 3,000 product lines, which includes fixings, fastenings, drill bits and hardware. We are also giving away bags of TechFast screws FREE to 250 RCI / Roofzine readers.
To enter, answer this simple question:
Q: How many hours have the TechFast screws been salt spray tested for?  (Hint: the answer's on this page!)
Simply email your name, address and answer to: dpratt@unity-media.com
Competition closes 30/09/2015
Terms & Conditions: Offer subject to availability. Cannot be used in conjunction with any other offer. One entry per person. Winners must be aged 18 years or over. The prizes are as stated, are not transferrable and no cash or other alternative will be offered. Competition is open to all readers of RCI, except employees of ForgeFix and RCI, their families, its publishers, printers and anyone connected with the competition. Your details will not be passed onto any organisations other than for the purposes of sending out prizes. Competition closes September 30 2015, when winners will be drawn at random.