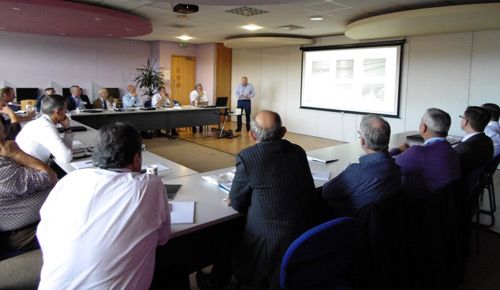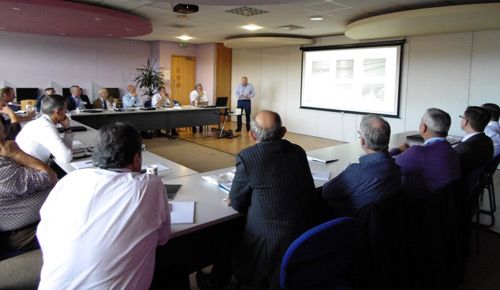 SFS intec recently held its third SFS Consultants Conference at its UK headquarters in Leeds, West Yorkshire. The conference was attended by 17 roofing and cladding consultants and supported by a team of SFS personnel during the various agenda items. The MCRMA, NFRC and SPRA were also represented.
Presentations from guest speakers as well as SFS covered metal and membrane roofing systems, rainscreens and zinc with topics including:
Thermal movement in aluminium standing seam systems (David Cottrell)
NFRC BlueBook (Ian Henning – NFRC)
BS5427 revisions (Nick Selves – RSK)
Rainscreens (Jamie Lewis – SFS)
Isoweld induction welding system for membrane attachment (Martyn Holloway – SFS)
Non destructive electric leak detection testing of membrane roofs (Jim Hooker – MRC)
Zinc as a roofing material (Jonathan Lowy – VMZinc)
Fastener design and warranty guidance (Simon Cooper – SFS)
SFS intec said that the topics selected generated lively discussions, which helped everyone to gain a wider understanding of some of the complexities of this challenging and ever-changing business. The combined roofing and cladding experience in the room was 772 years, further highlighting the level of knowledge being shared amongst discussions between consultants.
On behalf of SFS, Simon Cooper, technical manager, thanked all for their attendance and active participation during the Conference.
Jim Hooker, guest speaker and director of MRC commented that the event was "Informative, thought-provoking and convivial – a perfect mix."
He continued: "Thank you to all the team at SFS for their efforts. I look forward to the next one."