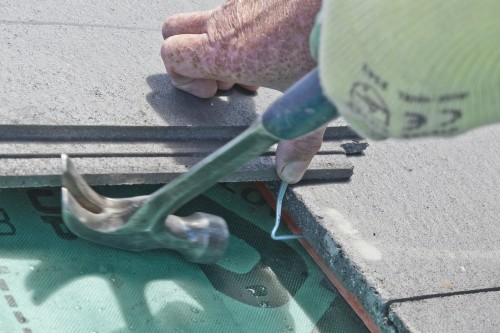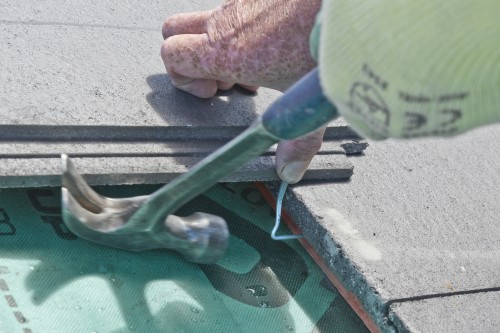 Camilleri Roofing has saved up to 30% on roof clipping time by using SoloFix, a one-piece clip and nail developed by Marley Eternit to help contractors implement the more stringent fixing requirements under the new BS 5534 standard.
The revised BS 5534, the Code of Practice for Slating and Tiling, came into force earlier in the year and requires all single lap tiles to have a mechanical fix, with a significant increase in the requirement for clipping.
Mathew Camilleri, director of Camilleri Roofing commented: "We've always adopted a belt and braces approach to fixing roof tiles, that goes beyond the British Standard, because we are aware of the increasingly unpredictable nature of the weather and the pressure this can put on roofs. We trialled the SoloFix product and found that it saved a significant amount of fixing time and was far quicker to install than traditional two piece clip and nails. This adds up to a big saving in labour time when you carry out the amount of clipping work we do."
Traditionally, clips and nails come in separate bags and need threading together prior to installation, which can add a significant amount of labour time. SoloFix is a one-piece clip and nail, comparable in price to standard aluminium clips, which can save as much as 30% on roof clipping time.
Mr Camilleri continued: "We carry SoloFix as a stock item and it is so much easier to use the same clip type across all of the projects which use Marley Eternit interlocking tiles. Now, the roofers don't ever want to go back to using the fiddly separate clips and nails!"
Camilleri is currently using SoloFix with Marley Eternit's Edgemere slate effect interlocking tiles on a new build social housing development at Gorse Place in Cardiff.
Gavin White, product manager at Marley Eternit, added: "We know that clipping is the most time-consuming of all mechanical fixing methods, so we launched SoloFix to help contractors save time and cost on roofing projects as we knew that an increased amount of clipping would be required on all roofs under the revised BS 5534. While something as small as threading each clip and nail doesn't sound like it can make that much difference, it is incredibly time-consuming, particularly when roofers are installing thousands of tiles.
Manufactured from a unique and high grade composite called Zinc Aluminium (ZiAl), SoloFix has the strength and performance of stainless steel, making it able to withstand the harshest environmental conditions across the UK, including gale force winds and salt corrosion. This means it provides a single clip solution, eliminating the traditional requirement for contractors to use two different types, aluminium and stainless steel clips.
More information on how SoloFix can reduce roof installation time is available in a demonstration video at www.marleyeternit.co.uk/solofix