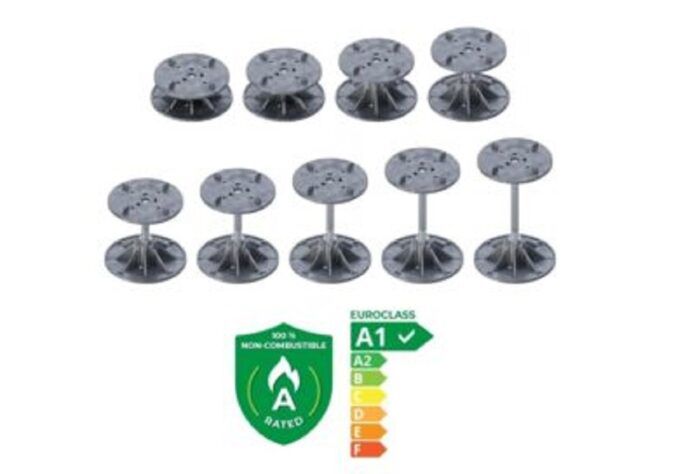 It is well known within the industry that changes in fire regulations following Grenfell have led to the requirement to use Class A fire rated products when designing paving solutions for high rise roof terraces and balconies.
This has led to innovation and new products entering the market to provide solutions to meet these requirements, with often a significant rise in the cost of projects as a result. We at Castle Composites have therefore worked towards designing a pedestal solution which not only meets the fire regulations, but also provides all of the required functionality at a cost effective price.
Our new ALU Series Pedestals offer a height range from 40 to 200mm, automatic self levelling up to 6% and a very high load capacity. Importantly the pedestals are constructed entirely from fireproof materials, with no plastic or rubber elements whatsoever, giving specifiers and installers complete comfort that fire regulations are being satisfied and safety maximised on the project.
These ALU Series pedestals offer all of the benefits of traditional plastic pedestals and they are very easy to install, requiring minimal tools and expertise to assemble on site. They are also lightweight, making them easy to transport and handle. They are made from high quality aluminium and stainless steel, and are resistant to corrosion and weathering. This makes them a suitable choice for outdoor use in all climates and conditions.
Despite best efforts, the use of Class A materials do mean that it is inevitable that these pedestals will be more expensive than plastic versions. However, even when there is not an explicit regulatory requirement to use Class A materials on a project, the long-term benefits and durability of Class A pedestals may outweigh the initial cost, especially if they are used in a project that requires a strong and reliable support system.
The ALU Series pedestals have been designed for use alongside our various Class A paving systems such as our Glass Reinforced Concrete Promenade Slabs, Porcelain Paving, Porcelain Decking, Aluminium Substructure and Aluminium Decking. We also offer a free design service where we will calculate and add quantities, heights and positions of the pedestals to your architects drawings.