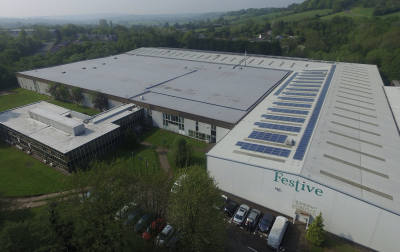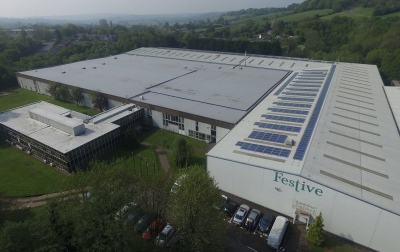 Christmas has come early for this manufacturer of holiday decorations, and its roofing contractor, with a weathertight manufacturing facility.
Festive Productions' new 9,300m² roof has been achieved in just three months from start to finish, whilst the Cwmbran factory remained operational below, producing over 80,000lm of tinsel/day.
The re-roof was realised despite a complete strip-off of the old, failed EPDM membrane, upgrading of insulation, and laying of new Protan SE1.2mm PVC membrane, in challenging weather and working conditions.
Those factors have contributed towards the roofing contractor JDB Industrial Roofing being honoured with a commendation by its industry body SPRA, for the best refurbishment project 2016.
The original roof, which dated back to when the premises were first purpose-built for Festive Productions in 2000, was failing badly, prompting Festive to investigate a repair option.
JDB won the project on its ability to devise the most efficient solution, working closely with Protan and consultants Tuffin Ferraby & Taylor (TFT). Thus, on the main body of the roof, the original membrane and insulation has been stripped, upgraded and replaced, and, along the gutters, a complete removal down to the metal deck, and replacement.
Protan's prefabricated system uses Protan single ply membrane, which has been developed to withstand even the harshest weather conditions found in Europe, and is proven to perform for 30 years. The membrane is factory-welded to order, with Protan's in-house Proplan software calculating the most efficient usage of material to minimise waste.
On site, all the contractor has to do is fix along the edges and abutments, and detail round penetrations etc. Protan produces a range of factory-formed detailings to further simplify the process.
Studies show that the prefabricated roof process can cut welding by up to 70% on a typical 10,000m² roof: equivalent to 60 hours' less labour and its associated cost. Yet the Protan prefabricated system is cost-competitive with standard single ply roof membrane, even before the latter's welding costs are factored in.
Protan provides a full support service, from NBS specification and in-house CAD design through to technical advice and variable warranty, from its UK headquarters in Warrington.