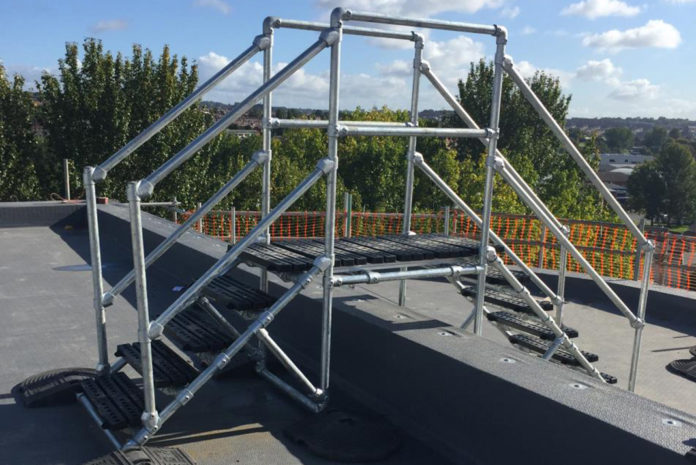 Kee Walk Step-overs from Kee Safety are a range of modular, off the shelf step-overs that provide a safe means of access where obstructions exist on a roof, such as pipework, plant equipment and conduits. Suitable for use on a variety of roof types and surfaces including concrete, membrane, metallic and composite, Kee Walk Step-overs accommodate changes in roof levels to offer a safe, anti-slip, level walking surface onto and across roofs.
Standard Kee Walk Step-overs are available in kit form to accommodate different height requirements and are delivered pre-assembled for easy installation. Each kit includes a double handrail and toe-boards for added safety, a choice of nylon or aluminium treads and base feet options to suit different roof types.
With adjustable step sections, and non-penetrative fixing options, the step-overs have the inherent flexibility to not only protect those accessing the roof, but to also protect the roof sheet from unnecessary foot traffic and potential damage by providing a clearly defined access path.
Kee Walk Step-overs are constructed using Kee Klamp tubular fittings. Each fitting incorporates an internal set screw to lock the respective fitting safely and securely onto the tube to create a strong, stable and safe structure.