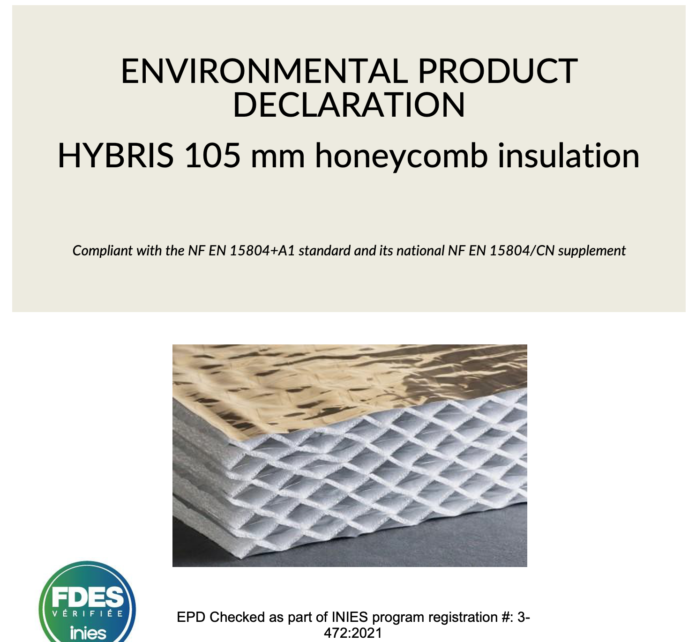 A series of new Environmental Product Declarations (EPDs) on Actis' insulation solution has shown that its cradle-to-grave environmental footprint is even more impressive than it was when the registration process was carried out four years ago.
This means its entire life cycle primary energy consumption, already only two fifths of that used by conventional rigid board insulation alternatives back in 2018, is now even kinder to the planet.
The EPDs, to EN 15804, were carried out on Actis' honeycomb style Hybris insulation, with key findings have been verified by France's national reference database INIES, which hosts an easy-to-access database of environmental and health data on construction products and equipment. It is a member of the ECO platform which aims to make verified EPDs freely available at a European level.
These show that Hybris' use of non-renewable primary energy resources is only 87% of the level used in 2018, while its global warming potential is just 82% of the previous figure.
The volume of greenhouse gases used to produce a square metre of the product in 2018 was 2.93kg CO2, while in 2021 it was 2.39 kg CO2.
The EPD also highlighted how Hybris' small size and light weight means fewer CO2 emissions are created during the transportation stage.
Moreover, its thermal efficiency and user comfort were worthy of note, with the report's author saying: "Hybris is both lightweight and vertically rigid. It does not settle over time compared to heavier insulating materials. This is important for the long-term reduction of thermal bridges once the insulation has been installed. It has a positive impact on thermal comfort in winter by preventing cold wall effects and on the reduction of energy consumption by long-term insulating performance."
The report added: "Through its reflective properties, the alveolar insulation contributes to very effective summer thermal insulation. Its reflective films reflect up to 95% of infra-red thermal radiation. This gain compensates the deterioration of thermal conductivity found in all insulation in summer to keep thermal conductivity in summer as good as that in winter."
Mark Cooper, UK and Ireland sales director at Actis, explained: "We installed a new manufacturing plant at our headquarters in South West France a couple of years ago which is more environmentally efficient. As production forms a major part of the cradle-to-grave process, making our production processes more efficient means the overall life cycle is kinder to the planet."