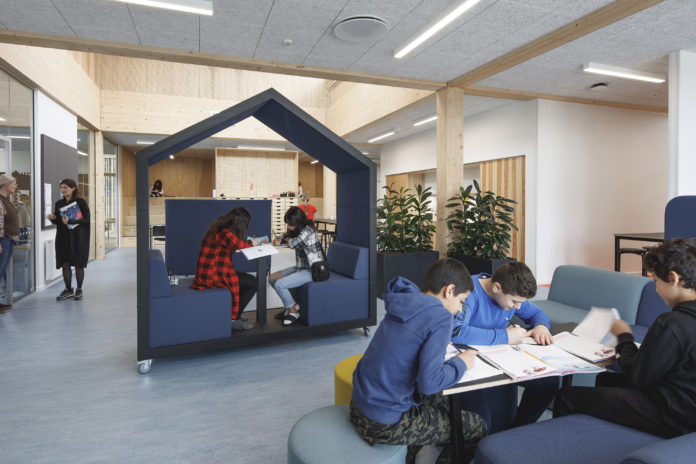 With all columns and beams constructed in wood, Erlev School in Denmark is one of the largest timber structures to be constructed in the country for a long time.
Architects Arkitema conceived the design based on the principle of a supported forest-like grid of columns in a fixed modular system. This supports high ceilings lined with Troldtekt acoustic wood wool panels to create quiet and attractive leaning areas.
Pernille Svendsen of Arkitema Learning commented: "I think that the Troldtekt ceilings are a wonderful match for the wooden structures and the many interior elements in wood. Troldtekt is both an acoustic solution and suits the overall design catalogue for the school.
"The panels have a surface that is a bit rough, but in a good way. A school shouldn't look too fine and polished. It should signal that it can withstand use, hanging things up, exhibiting and moving around. There's room for change here."
Founded on the Cradle-to-Cradle design concept, Troldtekt's natural and inherently sustainable panels are available in a variety of different surfaces and colours and contribute positively to a building's BREEAM, DGNB and LEED ratings. In addition to their high sound absorption and tactile surface, they offer high durability and low-cost lifecycle performance. Available in various sizes and in four grades from extreme fine to coarse, the panels can be left untreated or painted in virtually any RAL colour.
https://www.troldtekt.com/inspiration/references/schools-and-educational-buildings/erlev-school/