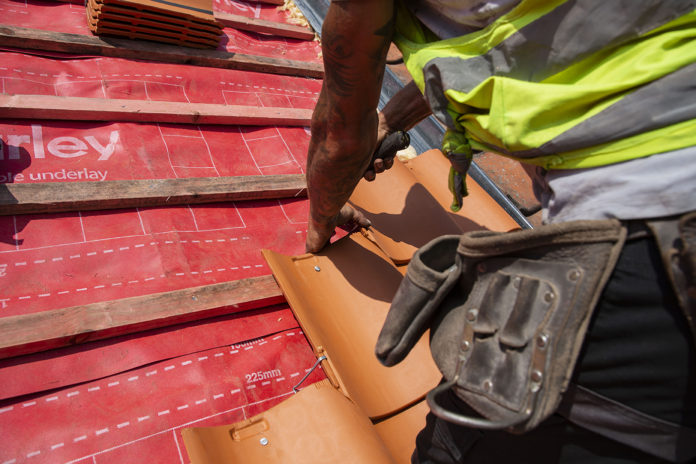 Ten years ago, while there may have been innovations in dry fix systems, roof clips wouldn't have been taking centre stage when it came to product development. Now, as we enter a new decade, all this has changed and clips are the focus of more innovation than ever before, as concerns about extreme weather have led to the introduction of stricter roof fixing standards.
Since the revised BS 5534 was introduced back in 2014, all single lap roofs require an element of clipping and, done in the right way, this helps to make pitched roofs more secure in the face of increasingly volatile weather.  However, this can come at a greater cost to contractors because of the extra labour time.
That's why, over the past five years, our research and development and technical departments have been focussing on how we can make clipping quicker, easier and more cost-effective for contractors. Here, I take a look at three of our recent clip innovations:
SoloFix
In the build up to BS 5534:2014 being launched, there was a concern among contractors that the increased clipping requirement would have an impact on labour time and cost. Therefore, before the standard was introduced, we set to work on developing a clip that would make it quicker and easier for contractors to install roofs to the new requirements. 
We launched the SoloFix one-piece clip and nail back in 2014 and since then, it has proved very popular. Traditionally, clips and nails come in separate bags and need threading together prior to installation, which can add a significant amount of labour time to roofing projects. SoloFix comes as one piece and can save as much as 30% on clipping time and is similar in price to standard aluminium clips. 
Universal Eaves Clip
All perimeter tiles, including eaves, must now be twice mechanically fixed in line with BS 5534:2014+A2:2018. These fixings can be a nail, tile clip, or dry verge capping system where appropriate. As different tiles each have their own clips, this means that many contractors have been carrying multiple different clips for each type of tile that they use. This is another area that our research and development team have been focussing on and as a result, we have just launched a new Universal Eaves Clip.
The new clip can be used with nearly all of our range of interlocking clay and concrete tiles, saving contractors the hassle of carrying different clips. The Universal Eaves Clip also has specially designed features that make it flexible and easy to install on any roof pitch, including a metal band with pre-punched holes, that can easily be bent to the required height during installation.
Dry Verges and Batten End Clips
When the new Dry Fix Standard was introduced at the start of 2018, it not only addressed concerns about differences in quality of dry fix systems, but also tackled the issue of dry verge security. 
BS 8612 states that dry verge products can no longer be installed just with a nail fixing into the end grain of the batten. Instead, mechanical engagement must be on the faces of the batten. In advance of the standard being launched, our research and development team wanted to develop a batten end clip, to be used with our dry verge systems, to make this mechanical engagement much simpler.  
Our Batten End Clip is designed with sharp teeth to grip into the batten, giving it extra resistance and making it extremely secure, as well as being very quick to push or hammer into place. Unlike others on the market, it can be fitted after the roof has been tiled, making retro fitting dry verge units much easier.
Roof clipping requirements have certainly changed over the past 10 years and, as we head into new decade, this should make roofs much more secure against higher wind loadings. Innovations in clipping mean that it doesn't have to be the onerous task that it once was, but if contractors do need any technical help or free fixings specifications, they can contact our expert team for advice on 01283 722588.