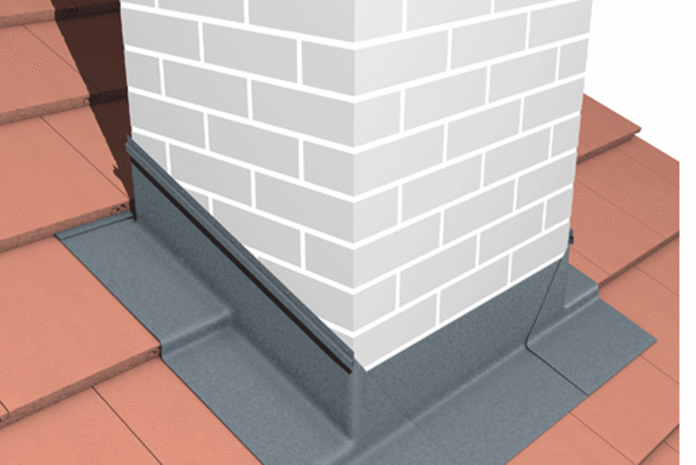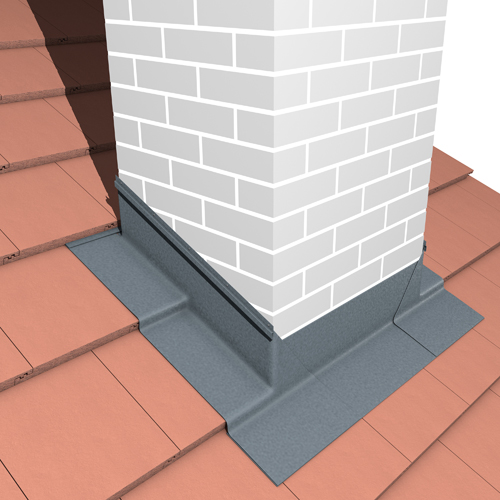 With the rising cost of lead, together with the continued rise in theft of lead, many roofing contractors are now seeking lead-replacement products. Stuart Nicholson, roof systems director from Marley Eternit, explains how its new Lead Replacement Roll is providing contractors with a cost-effective alternative.
What are the advantages of lead replacement products?
While lead has traditionally been used as a flashing material by contractors for many years, it is now starting to be seen as a time consuming, labour intensive, highly skilled, costly and potentially hazardous job and lead replacement products are, as a result, growing in popularity.
Our Lead Replacement Roll has been designed and developed as a time saving solution, that doesn't require specialist lead fitting skills. With similar aesthetics and rigidity to lead, the new adhesive roll provides contractors with a cost saving alternative, which is also much quicker and easier to install than the traditional solution.
How easy is it to install the Lead Replacement Roll?
Flexfast, Marley Eternit's Lead Replacement Roll, is easy to install. Featuring an ultra-sticky, UV and age-resistant, Butyl adhesive backing it provides a quick and secure fix, with a professional finish that will last for years.
In addition, as it is manufactured from creped coated aluminium, it is reinforced with metal grid for strength and rigidity, but it can actually stretch up to 60%, so can be moulded to even the deepest profile tiles.
Are specialist tools or equipment required?
No special tools are required during installation, as the Lead Replacement Roll can be cut easily with a knife or snips and moulded to the contours of the roof and walls with just your hands for a permanent watertight flashing.
However, it is important to make sure that the roof material and walls are dry and dust free before you start, a quick brush is recommended to remove any dust or loose materials. For unstable surfaces prime first with a masonry stabilising solution or a bituminous primer.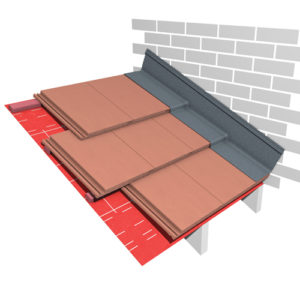 How is the Lead Replacement Roll applied?
When you're ready to get started, simply measure the length of Lead Replacement Roll you require and cut on a flat level surface with a sharp knife or snips. If a joint is required ensure that a minimum overlap of 100m is used.
With the protective film backing still in place mould the roll into position using your hands, dressing on to the contours of the wall and roof tile profile. Flexfast is very malleable so will shape easily and will follow all the contours of the tiles ensuring a close watertight fit.
Once dressed into a satisfactory position remove the top protective film and press the butyl backing firmly against the wall, a minimum 80mm upstand is required. Remove the remaining backing paper and press into the profiles of the roof covering, ensuring a minimum 100mm cover is achieved, and minimum 50mm of adhesion is achieved. Once securely pressed into position a seam roller can be used to remove any pockets of trapped air and achieve a professional finish.
Finish off with the Flexfast Aluminium Trim. Position the trim over and in line with the top of the roll against the wall. Mark the hole positions and drill holes through the roll and push in wall plugs, screw the trim firmly back against the wall. Seal the gap between the Flexfast Aluminium Trim and the wall with a suitable waterproof sealant.
Is the Lead Replacement Roll a more expensive option?
No, as the Lead Replacement Roll is made from Aluminium it provides contractors with a cheaper option. Our new Lead Replacement Roll is significantly lighter than its lead equivalent, making it easier to handle and reduces health and safety risks.
Can lead replacement roll be purchased as part of a full roof system?
Yes! Adding to Marley Eternit's existing comprehensive accessory range, including Universal dry verge, underlays, GRP valleys, JB Red roofing battens and much more, the new Lead Replacement Roll can be purchased individually or as part of a full roof system.
Marley Eternit's new aluminium wall and chimney flashing solution is available in two widths 300mm and 450mm.