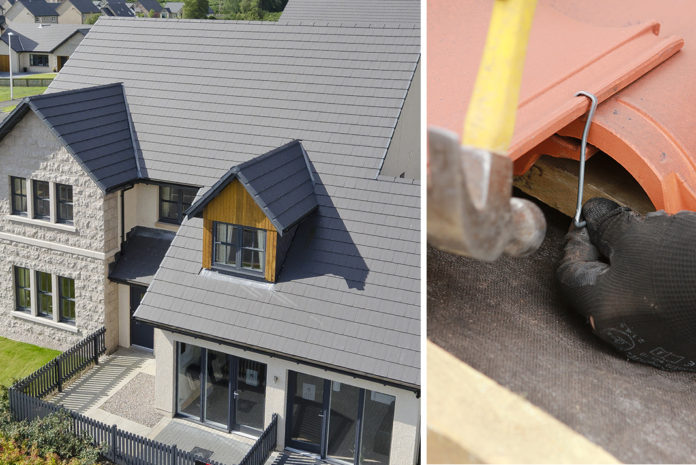 At the end of last year, the government launched the Building Better, Building Beautiful commission to focus on the importance of beauty in new housing developments, challenging so-called bland design and low-quality homes. Tom Woodhouse, site services manager at Marley discusses getting the balance right between speed and beauty of the roofing phase.
Roofing plays a huge role in the aesthetic appearance of a new housing development and no doubt it will be an important area of focus for the commission. The right design and blend of roofing materials can help give character to new homes, sensitively reflect the local surroundings and create visual interest.
However, at the same time as facing demands to improve design and quality, developers are still coming under increasing governmental pressure to boost the volume of new homes and build more quickly. This means contractors often need to reduce the length of roofing programmes, while facing increasingly stringent fixing requirements. So how can they balance the realities of time-saving with quality and aesthetics?
The good news is that time-saving doesn't have to mean compromising on quality or appearance. There are plenty of roofing products on the market that can help give new houses traditional character, blend with the existing vernacular and meet British Standards in a quicker and more cost-effective way.
Clay
Clay tiles are an important part of the historical landscape of many towns and villages in the UK and it is vital to preserve this heritage. However, this doesn't mean that there aren't ways to save time on clay projects.
Machine-made clay plain tiles, such as our Acme Single and Double Camber range, offer the beauty of clay but are uniform in size – this means they require less sorting than hand-made tiles. The range of colours and textures gives contractors the ability to create a beautiful clay roof, blended perfectly to match buildings in the local area.
When working with clay plain tiles, purpose-made fittings can be a real time-saver. Not only do they look stunning, they will eliminate the time spent on making site-formed fittings such as mitred hips.
Pantile roofs are traditionally time consuming but there are some very good easy-to-fix options out there. For example, our Lincoln interlocking pantile combines the beautiful curves of a traditional pantile with the installation speed and weather performance required for today's roofs. With a high coverage rate of 15.3 tiles per square metre and a completely open gauge design, the Lincoln is quick and easy to install.
Clay interlocking tiles are perfect for creating character on projects where time and cost-saving is important. Our clay interlocking range features the Lincoln and Melodie easy-to-fix pantiles, as well as the Maxima double roman, which are all compatible with our range of dry fix systems. To speed up installation further, a one-piece clip and nail, like SoloFix, can reduce clipping time by as much as 30%.
Slate
When you need a traditional slate aesthetic, choosing a slate-effect tile with a high coverage rate can give significant time and cost-savings.
There are some great thin leading-edge slate effect interlocking tiles on the market which replicate the slate look but are more cost effective and quicker to install. Our popular Edgemere interlocking slate now comes in Anthracite for an even closer resemblance to natural slate and has a very high coverage rate of just 9.7 tiles per square metre. We also offer a Riven Edgemere, which has a surface texture to provide a more natural appearance with a variegated look, depth and tone. All of the slates are compatible with the SoloFix one-piece clip and nail for even quicker installation.
The fact there are four colours in the Edgemere range also means that housebuilders and contractors can use different colours throughout the same development to add visual interest.
There are also other new time-saving slate colour innovations in the marketplace. For example, our low pitch Melodie interlocking clay tile is now available in slate grey, giving contractors another easy-to-fix alternative.
Fixings and accessories
When it comes to balancing time-saving and quality, the choice of fittings and dry fix systems is very important. Using inadequate or inferior fixings might seem like it saves time or cost upfront, but it can have a huge impact on quality and also on time spent having to go back and repair faults later on.
As well as getting a new fixing specification for every project, consider using a full roof system from one manufacturer. Our full roof system includes your choice of tiles or slates, battens, underlay, fixings and accessories, all designed and tested to work together, with the highest quality standards and offers a 15-year warranty.
For more roofing tips and installation guides, visit our YouTube Channel , www.marley.co.uk or download our free Sitework Guide app from the App Store, Google Play or Amazon.