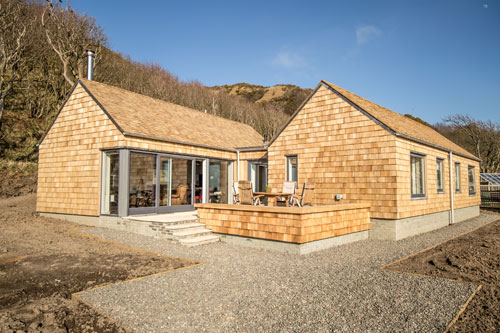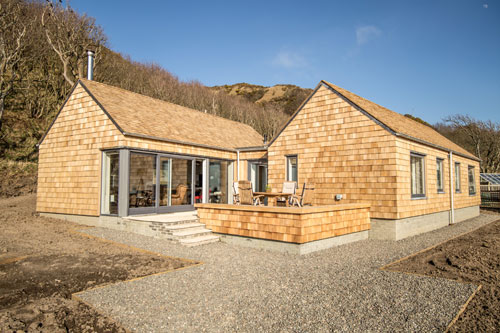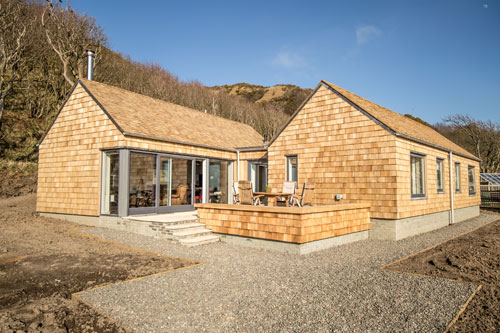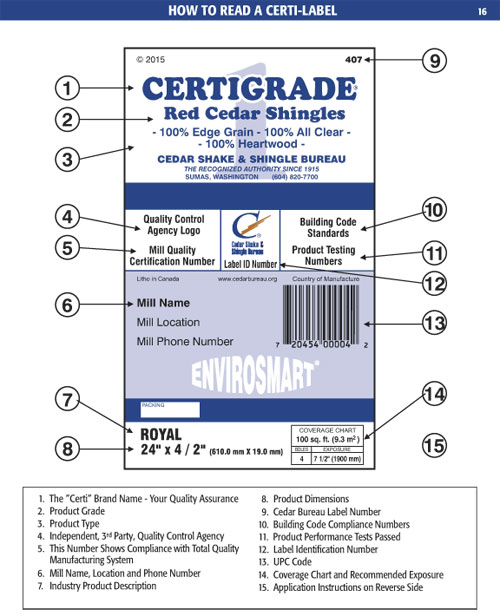 No longer just a specialist roofing product, cedar shingles and shakes are starting to be used on a greater variety of projects where installation speed and sustainability are important. From commercial projects and self-builds to heritage properties and even social housing, the use of shingles and shakes is becoming more diverse, which means there are more opportunities for contractors to install them.
Contrary to popular belief, cedar shingles are straightforward and simple to fix, which can help to cut roof or cladding installation time. They use the same roof construction as any other pitched roof, with battens and vapour permeable underlay and are twice fixed with stainless steel nails or staples.
Surprisingly they aren't out of budget for many projects, priced at a similar level to a clay plain tile. One key benefit of using cedar shingles is that they can be fixed down to a very low pitch of just 14 degrees and they don't require specialist expertise to fit them. They are highly durable and can even be used in extremely exposed locations, such as coastal properties.
If you're working on projects that focus on energy efficiency or require the use of sustainable materials, then shingles are a very good choice. As well as having one of the lowest carbon footprints of any widely used building product, when used as cladding they offer a high degree of thermal insulation and require zero maintenance.
They are also very light to transport and to handle. This makes them ideal for alternative construction methods, like timber frame, where reducing the weight of the building envelope is important.
However, there are some key considerations when choosing shingles and shakes as they don't all offer the same levels of quality and durability.
Check the label Cedar shingles come in various quality grades – the most frequently used are Blue Label, Red Label and Black Label. We only recommend the use of Blue Label shingles in the UK for roofing and cladding as this represents the highest quality.
Don't take colour at face value: This Blue Label quality grade ensures the shingles are made from 100% heartwood for durability, 100% edge grain for stability and are 100% clear of any defects, such as knots.
However just because a company puts a label in a blue colour on its bundles does not mean that it is on grade, or has undergone third party inspection…
Certigrade: Look for the Certi-label name at the top of the label, this ensures the shingles are supplied by accredited mills which are regulated by CSSB (Cedar Shingle and Shake Bureau). Only those that have this are officially Blue Label. A Certigrade label is included in every bundle, which includes details of the certification from members' mills to prove they conform to the grading rules. The label contains some important information to ensure you are using the best quality products.
For shakes, look out for the equivalent Certisplit accreditation. Our JB Shingles and Shakes are Certigrade accredited by the CSSB.
Product grade: This is also marked on the label, number 1 is Blue Label, 2 is Red Label and 3 is Black Label. The label also shows evidence of third party quality checks, as well as full details of the source mill and their product performance tests. As well as checking the quality on the label, there are some other considerations when choosing shingles and shakes:
Wood type: The age and growing method of the tree makes a big difference to the quality of the product. Western Red Cedar Shingles and Shakes are made from Thuja Plicata, a slow growing cedar which is strong and durable.
Chain of custody: Make sure you choose a product that has PEFC accreditation, which promotes the sustainable management of forests and provides complete chain of custody.
Durability: Cedar shingles and shakes are a durable roofing and cladding finish, with a standard life of around 20 to 30 years but for maximum life expectancy we recommend they are preservative treated. Our JB Shingles can be treated with MicroPro which extends the life and offers a durability guarantee of 40 years.
Treatment: Check what preservative treatment is used as many are alkaline and react with the natural tannins in the cedar and can leave black or dark stains on the shingles. There will be a separate treatment label in the bundle.
MicroPro's formulation is 'clear' and uses a suspended micronised copper-based preservative that leaves the shingle looking completely natural.
Installation speed: Shingles are easy to install but to make it even quicker, we supply preformed hips and ridges and offer the JB ShingleFix fixing system, which can reduce installation times by up to 50% on standard 45 degree roofs, as witnessed by the NFRC.
Fire resistance: In some instances cedar shingles and shakes may require treatment with a fire retardant. Always check with LABC when using them near a boundary, even if there is no building close by. Our fire retardant treatment gives the shingle a BS 476.EXT.S.AA B ROOF (t4) fire classification – as good as a clay tile. This treatment also meets BS 476 EUROCLASS B when used for vertical cladding.