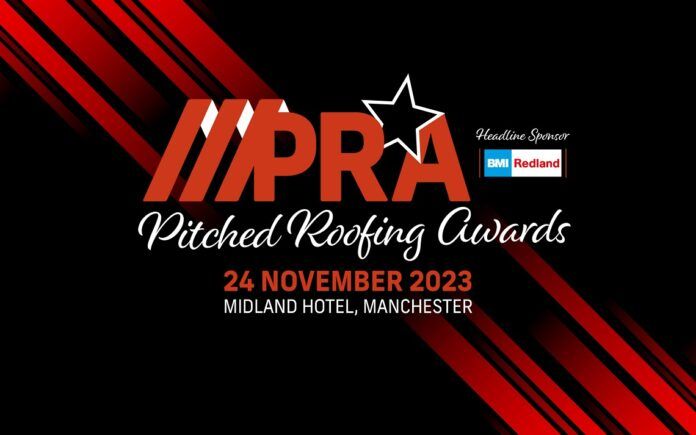 It's the final countdown! The deadline for the 2023 Pitched Roofing Awards is this Friday, the 28 July so the time to get your entry in is now!
Now in its sixth year, the Pitched Roofing Awards, taking place on Friday 24 November at the Midland Hotel in Manchester, recognises and rewards outstanding examples of pitched roofing design and promotes the creative and innovative use of products and materials.
So, if you think you have excelled on a project that has demonstrated technical ingenuity, innovative design, or advanced pitched roofing engineering, then we want to hear from you!
New to 2023, the Pitched Roofing Awards introduces two new categories – Most Innovative Product and Sustainable Project of the Year!
For Most Innovate Product, the judges will be looking for the high level of creativity and innovation of your new product in terms of but not limited to: materials used to make it, its method of application or the way it's made. The judges may also be looking to see how well the product has improved, complemented or innovated an existing project.
For Sustainable Project of the Year, the judges will be looking for a new build or refurbishment project that has utilised a system that demonstrates sustainable and environmental credentials. Regarding refurbishment projects, the judges will be looking to see how well the product has improved/complemented the existing building.
Reasons to enter
Winning an award is not only an exceptional achievement, but it has proven business benefits for those who enter too.
Being shortlisted for the Pitched Roofing Awards will earn you and your company recognition within the pitched roofing and wider construction industry – opening doors to securing new business opportunities.
Earning a 'highly commended' or ultimately, winning an award will gain entrants national recognition and provide the opportunity to make their mark on this important market.
There are 13 award categories for you to enter, celebrating excellence in project delivery, and crucially, delivering positive outcomes for the industry.
From innovative product design and materials used on a project, to the complexity of the installation, the Pitched Roofing Awards recognises achievements through a range of categories and criteria, which will be taken into consideration by the independent panel of judges.
The awards categories are:
NEW Most Innovative Product
NEW Sustainable Project of the Year
Best use of a flat to pitch roof system
Best use of a heritage roof
Best use of a lead roof application
Best use of a profiled metal roof
Best use of concrete & clay tiles for commercial project
Best use concrete & clay tiles for domestic project
Best use of hard metals roof
Best use of slate for a commercial project
Best use of slate for a domestic project
Outstanding contribution to the industry
Young achiever of the year
How to enter the awards
The awards entry process is FREE and simple, making it an easy platform to gain recognition and shout about your successes. Additionally, you can submit as many entries as you wish.
So, if your project has been completed over the past 12 months and you would like to be a part of this fantastic event, then make sure you start your online entry early to ensure that you and your team put together your strongest entry possible and increase your chances of becoming a finalist.
The more information you provide and the better the images, the more likely your entry will stand out.
Entries for this year's awards will close on Friday 7 July 2023, so the time to enter is now!
The Pitched Roofing Awards team team would like to thank BMI Redland as its Headline Sponsor, SIG Roofing as its Main Sponsor, BMI Redland, ALM and SIG Roofing again as its Category Sponsors, Northstone as its Drinks Reception Sponsor, and ALM again as Host Sponsor.
If you would like to know more information about the sponsorship opportunities available for the Pitched Roofing Awards, contact Tony Brown at tony.brown@markallengroup.com or by calling 01732 748059 / 07979 506896. And for table bookings please contact Jessica Nobbs at jessica.nobbs@markallengroup.com or by calling 07956 316602.