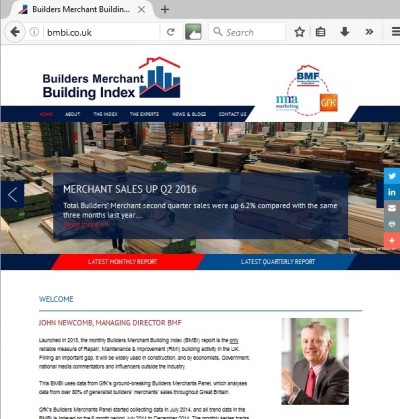 The Builders Merchant Building Index (BMBI), a brand of the Builders' Merchants Federation (BMF), has announced that its new website www.bmbi.co.uk is now live.
Launched and managed by MRA Marketing, the BMBI fills a gap in the UK's measure of building activity. The Index uses data from GfK's General Builders' Merchant Panel, with input from national and regional builders' merchants accounting for over 80% of industry sales.
The BMBI Experts are a crucial part of the Index. They speak for their markets and add perspective and context, explaining trends, issues and opportunities. Where relevant they comment on new industry schemes, regulations or policies. All Experts are supplier members of the BMF.
Visitors to the new website can access the latest monthly and quarterly indexes, download past reports, read the Expert comments and get in touch with the Experts directly. An interactive chart facility enables visitors to look at trends and compare different market sectors.
John Newcomb, managing director of the BMF, commented: "Since its launch last year, awareness of the BMBI has grown strongly. It's gathering momentum and reaching a wide audience with monthly reports, trade and consumer PR. There is an active twitter feed with over 2,000 followers already. A new website gives it a focus and a platform so we can build awareness and understanding of the importance of builders' merchants and their suppliers in the economy.
John continued: "The BMBI was launched to improve and develop understanding of our markets outside the industry. Too often in the past the industry's importance has not been recognised or fully understood by the national media, economists and Government. Using gold standard data from GfK's Builders' Merchant Panel and industry Experts who speak for and explain their markets, we have a reliable and valuable tool for putting our industry and its significance firmly on their map."