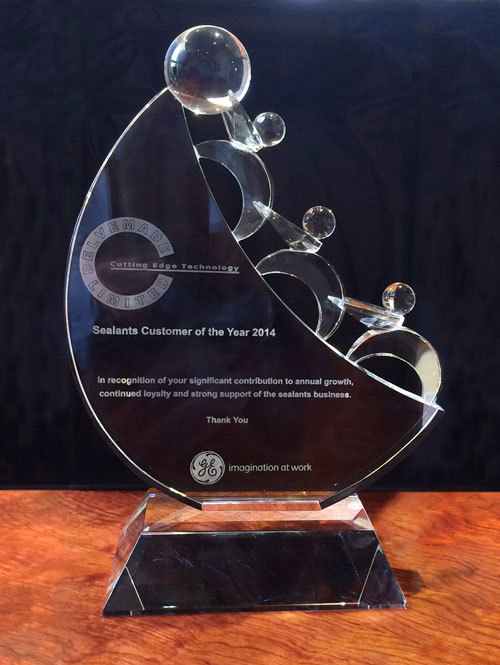 Delvemade, the manufacturer of Seamsil Cut Edge Corrosion treatment, has recently hosted a visit by three senior executives, from Momentive Performance Materials Inc., part of US giant GE Silicones.
Tarek Bassil, Rich Wilson and Joseph F. Bruderek, made a special trip 'across the pond' to present Delvemade with its 'Customer of the Year 2014' award.
As always there had been many contenders for one of Momentive's most prestigious international accolades. The award reportedly came as quite a surprise as Delvemade is a relatively small operation, when compared with other Momentive customers.
In a short presentation ceremony at Delvemade's production facility at Itac's factory in Manchester, senior commercial manager Tarek Bassil explained that the recipient of the award was not determined by sales alone. The fact that Delvemade has seen growth in excess of 20% over the last two years was important. But the key reason for choosing Delvemade was the way the business operates and its decades-long successful relationship with GE.
Also taken into account was the UK company's contribution and track record of sharing its success and exchanging information, which was seen to epitomise a great two-way business partnership. The handsome glass trophy is beautifully modelled to depict effort and achievement through teamwork; it is seen as a metaphor for business success.