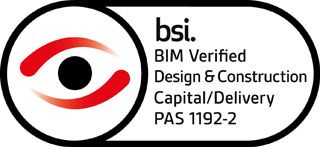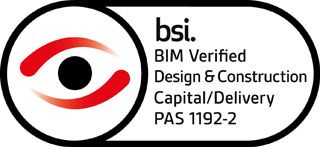 The BSI (British Standards Institution) has this week announced BAM Construct UK and Skanska UK as the first two companies to be independently assessed by BSI and achieve verification from its newly launched BIM scheme.
The scheme has been developed in conjunction with the announcement that as of 2016, all Government building and infrastructure projects in the UK will require level 2 BIM compliance.
BSI says that PAS 1192-2 'Information management for the capital/delivery phase of construction projects' has been developed in order to provide contractors and their supply chain with evidence that they have the capability to deliver projects using Building Information Modelling (BIM).
PAS 1192-2 has been designed as a consensus-based standard with input from influential industry experts and sets out how to share information on BIM projects and lists the requirements for BIM Level 2.
It makes recommendations for the adoption of industry conventions; challenges project complacency and promotes consistency and transparency of work processes between parties. It is one of the series of standards designed to drive cost savings and efficiencies through waste reduction and improved collaboration.
In order to achieve verification from BSI of their BIM capability, contractors will have to demonstrate that they adhere to the requirements of the PAS 1192-2 standard. This will be determined through an onsite audit, which will assess the documented procedures for all processes in PAS 1192-2, the competency of staff, and a documented complaints procedure. Different requirements are specified for Tier 1 contractors and their supply chains.
Andy Butterfield, global head of construction, product certification at BSI commented: "This verification scheme will be of huge benefit to construction companies involved in public sector projects as well as those companies within the construction supply chain. The new schemes have been developed in collaboration with industry stakeholders to ensure that they add value and address the key issues which will help the construction industry with BIM implementation."
Colin Pryor, UK business systems and quality manager at BAM Construct UK commented: "We're delighted to have received verification to PAS 1192-2 by BSI. BIM is a major driver influencing the direction of the construction industry both in the UK and abroad and we're pleased that we've been able to work with BSI during the development of this scheme. In addition, with the UK Government requiring all centrally procured Government contracts to be compliant with BIM Level 2 by 2016, this verification will provide assurance to those within our supply chain that we are capable of delivering projects using BIM."
A BSI Kitemark for BIM Design and Construction will also be developed in 2016, which will incorporate verification to PAS 1192-2.
BSI says that its training offering will support the scheme to ensure the requirements of PAS 1192-2 are fully understood and effectively implemented throughout the organisation.