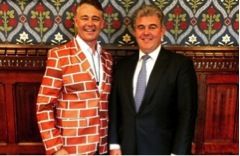 The Government's housing minister has used a visit to a training academy to call on young people to consider a career in construction, in an effort to boost the number of new entrants to the industry.
Speaking at the Hodgkinson Brickwork Academy at Derby College, Brandon Lewis, minister of state for housing and planning at the Department for Communities and Local Government (DCLG), said the sector was once again "booming" following the damage caused by the economic crash in 2008. He added that this represented a "great opportunity to carve out a successful and well-paid career" in construction.
Mr. Lewis said: "For the last five years, our efforts have got Britain building. This means thousands of jobs are now up for grabs – roles that offer a great opportunity to build a successful and well-paid career."
His rallying cry was aimed at those who could be convinced to enter the house-building sector, which was hit severely by the recession but is reportedly at the centre of the Government's economic plans.
The comments were made during Mr. Lewis' visit to the academy, which recently welcome 100 potential recruits to an open day in June, ahead of its upcoming launch. During the visit, Mr Lewis spoke with several new students about their ambitions and met with Ian Hodgkinson, managing director of Hodgkinson Builders, who was inspired to set up the training facility in response to skills shortages in the area.
Mr. Hodgkinson said: "This is a crucial area for the economy and I am absolutely delighted that the minister has taken the time to visit us and to see what we are doing here.
"We've got ambitious young people seeing that a career in construction is full of rewards and it is fantastic to be working with such a forward-thinking organisation as Derby College on this academy.
"Together we can get Britain building again and start with the ambitious young men and women who can forge a fantastic career.
The Government is continuing its attempts to attract construction apprentices after more than 15,500 people signed up to on-the-job training schemes in the building sector last year.
Ministers are also making plans to increase the amount of construction work available, with some 275,000 new affordable homes set to be built over the current Parliament.