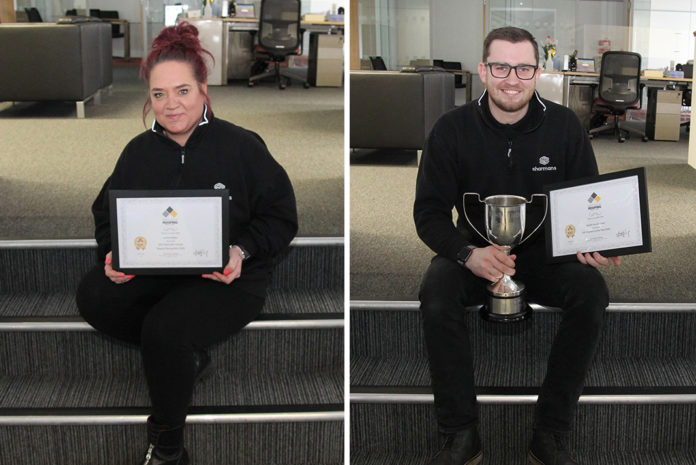 The Institute of Roofing (IoR) has named Garath Buckingham as its Student of the Year.
Garath, who is site services manager at HD Sharman, received the award following his completion of the IoR's Associate Course.
Janice Bailey, sales assistant at HD Sharman, has also been praised for her efforts with a Special Recognition award for her application and the originality of her final presentation.
The IoR Associate Course is designed for anyone considering a professional career in roofing, particularly those seeking to move into a supervisory or management role. The training has recently been updated, moving to a dedicated online learning platform offering professionals the opportunity to learn effectively with minimum disruption to working patterns.
Garath, who completed his training prior to the national lockdown, said about his accolade: "It feels great to be recognised for the extra hours and hard work I put into the course, which resulted in an overall distinction.
"I couldn't have done it without the support of my colleagues. We did the course over five to seven weeks, and it was easily manageable in multiple modules. The online platform allowed us to keep track of what we needed to do before our next classroom session, while allowing us to upload our completed worksheets for marking.
"The training covers a great mix of roof types and build-ups that we perhaps wouldn't normally come across everyday as a company, along with relevant legislation and the tender and procurement process. All of this has provided our teams with more knowledge and a better understanding of the roofing industry as a whole."
Commenting on her efforts, Janice added: "It was a lovely surprise to win this award. I gave 100% to the course and it has really paid off. The training has taught me lots of things that I wouldn't have known about in my job role, so my skills and understanding have significantly increased."
Chief executive of the IoR, Stuart Hicks, said: "All of the students who have recently completed the new and updated course have worked incredibly hard. We are particularly proud of Garath and Janice for their efforts, as reflected by these well-deserved awards.
"We've received a lot of positive feedback on the revised course and hope that other professionals can see the real benefits of learning the essential skills and knowledge to help them progress in the roofing industry."
The Associate Course costs £850 plus VAT per delegate and includes content such as law, finance, terminology and design specification, surveying and estimating, tendering and procurement, roof safety and standards – considered essential in today's construction climate. 
Due to coronavirus restrictions, the course has recently been reconfigured for full online delivery over a 15-week period with the first three courses fully subscribed.
For more information, visit www.instituteofroofing.org or email admin@instituteofroofing.org to book a place.