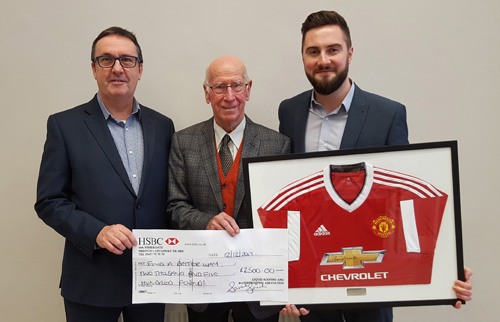 The Liquid Roofing and Waterproofing Association (LRWA) has donated £2,500 to a charity set up by Sir Bobby Charlton called 'Find A Better Way'.
The Cheshire-based charity helps civilian landmine blast survivors, their families and communities to 'heal and rebuild their lives'.
As the Association's chosen charity of the year, Cliff Weston, LRWA chairman, and David Broom, director of an LRWA manufacturer member, Moy Materials, visited the Find A Better Way headquarters in Knutsford, Cheshire, to present a cheque to the football legend himself.
The majority of donations were raised at the recent LRWA Awards (November 2017), where a Manchester United shirt signed by Sir Bobby Charlton was auctioned. David Broom of Moy Materials' [pictured] generous bid won the signed shirt, and he received his prize during the cheque presentation.
Commenting on the donation, Sir Bobby Charlton said: "A huge thank you to the LRWA for supporting Find A Better Way. I was inspired to set the charity up during a visit to Cambodia in 2008, where I saw first-hand the devastating effects of landmines and other explosive remnants of war on families and children decades after the fighting there had stopped. This kind donation will go a long way towards supporting our work helping landmine blast survivors and their communities to heal and rebuild."
LRWA chairman, Cliff Weston, said: "We are delighted to donate to a cause which helps towards the plight of landmine survivors around the world.
"Not only that, as a country I think we are ignorant to the sectarian warfare that has a devastating impact on many people's lives across the world. To help raise awareness of a cause which supports victims and their families affected by the industrial scale of these landmines can only be a good thing."
Cliff concluded: "This is the second year the LRWA has chosen to donate to a dedicated charity as we recognise the privileged position we are in the UK, and as a sector, experiencing and enjoying continued growth and prosperity, it seemed only right to give something back to such a worthy cause, no matter how big or small the donation, which might make a difference to people in a less privileged position. We hope our donation will help Find A Better Way continue to support vulnerable communities living in mine-affected areas."
For more information about the charity and its work, visit www.findabetterway.org.uk