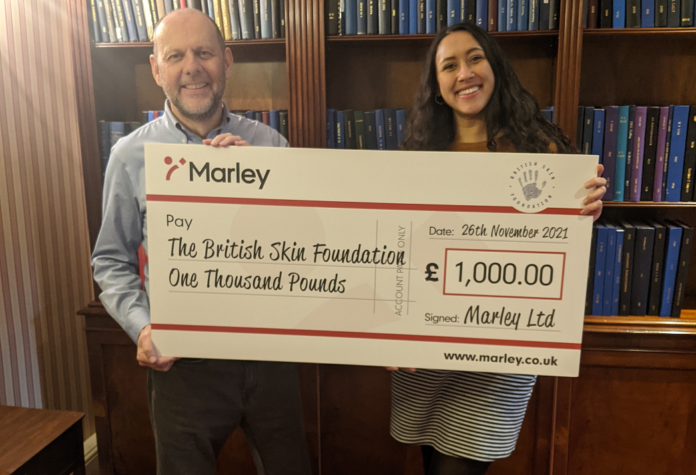 Marley has donated £1,000 to The British Skin Foundation following its successful 'Safe in the Sun' campaign, which sought to highlight the negative effects of damaging sunrays, particularly for those in the construction industry working outdoors.
This year, the Safe in the Sun campaign focused on three important lines of defence in the fight against sun-induced illness: covering up, sunscreen use and hydration.
Considering this focus, Marley created a Safe in the Sun kit, designed especially for outdoor construction workers such as roofers, including a Marley-branded T shirt, sunscreen and water bottle.
Each time a kit was sent out, Marley pledged £1 for The British Skin Foundation. However, the total raised for the charity will be boosted by the company to the tune of £1,000.
Commenting on its support for The British Skin Foundation, Daniel Redfern, marketing manager at Marley, said: "With the British Journal of Cancer revealing that construction workers represent a high proportion of deaths from melanoma skin cancer, this is clearly a serious issue.
"The British Skin Foundation is the only UK charity that raises money to fund research into all types of skin diseases, including skin cancer. Collaboration between Marley and the charity is therefore plainly a good fit, and I'm over the moon that we can make this contribution to its work. The money will be used for potentially life-saving research and raising awareness. Here at Marley, we look forward to working with the charity on an ongoing basis to boost the sun safety message further."
Lisa Bickerstaffe, spokesperson from the British Skin Foundation, added: "We'd like to thank Marley for its kind donation and support of our work. It's vital that outdoor workers, such as roofing contractors, take appropriate sun safety precautions to protect against potentially deadly skin cancers in later life. We're pleased to see Marley taking this issue seriously and providing advice with its 'Safe in the Sun' campaign. We'll be able to put the company's donation to good use in funding vital skin cancer research."
>>Read more about charity in the industry here.