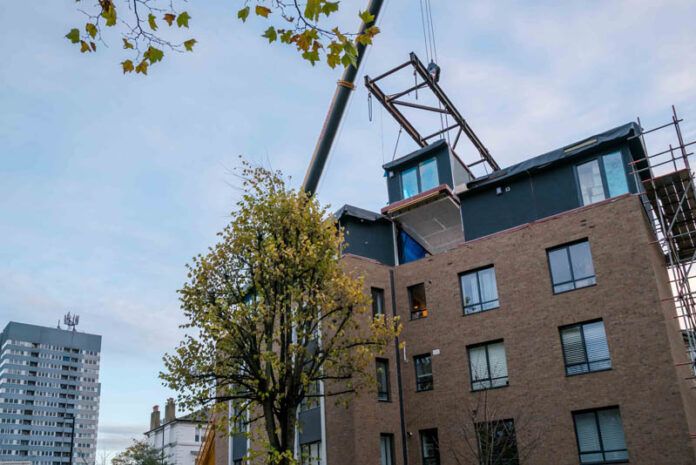 Modular homes provider Enevate Homes has seen turnover increase by 118% this year, possibly signalling a surge in demand for modular homes.
The company, which works with housing associations across the UK, builds homes at rapid speed, using an alternative to traditional construction methods. The business can produce an average-sized home in 30 days at their factory.
Enevate Homes, which was founded in 2016, has now witnessed turnover jump from £3.9 million last year to £8.5 million this year, with 250 homes being ordered in recent months.
The company now is looking to increase its workforce by 30 to 40 additional employees over the coming months to cater to the influx of new homes and is working alongside the Ministry of Defence and the Career Transition Partnership to give military veterans the opportunity to retrain and join the rapidly expanding business.
The company has also appointed a new finance director Elaine New and a new digital director David Philp to the management team to help support the company as it continues to expand
The company has also seen an influx of housing associations approaching them for factory tours and to learn about modular homes in recent months, signalling a start for plans to rapidly produce modular homes to provide low-cost "social housing" for people in need of a home.
Gary Mayatt, managing director of, said: "Despite the benefits of modular housing, many providers have been loss-making, with momentum stalling and leading to several companies falling into administration last year. However, the solution to the UK housing crisis appears to be gaining serious momentum since February this year with significant interest from ministers and housing associations.
"We have seen a significant uptake in modular homes — which is vital, especially if the UK and Kent is to tackle some of its biggest issues, such as: an ageing workforce, a mismatch between the supply and demand of new housing and the urgent need to gear up the economy to meet net zero targets by 2050."
UK MMC trade body, Make UK Modular has calculated that the industry will be able to build 20,000 modular homes by 2025. This would equate to a fifth of the 100,000 annual shortfalls, following government targets of 300,000 new homes a year by 2025 (according to official figures, about 204,500 were built in the year to March 2022).
Gary added: "The UK currently delivers just 10% of new homes using modern methods. We expect this to significantly increase in the coming years as we continue to see a pick-up in momentum. In four years' time, the modular industry will be a significant part of how we deliver homes in the UK."