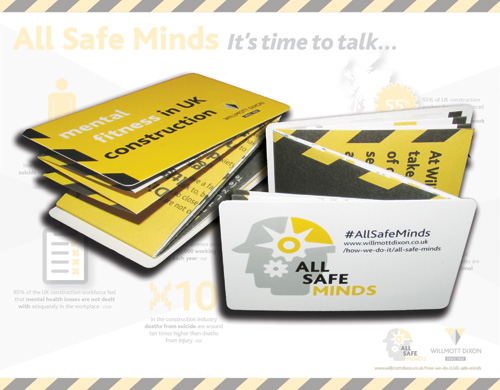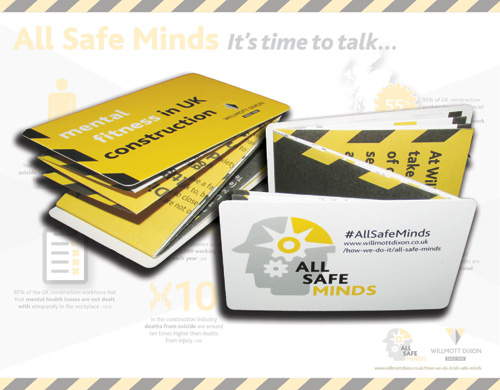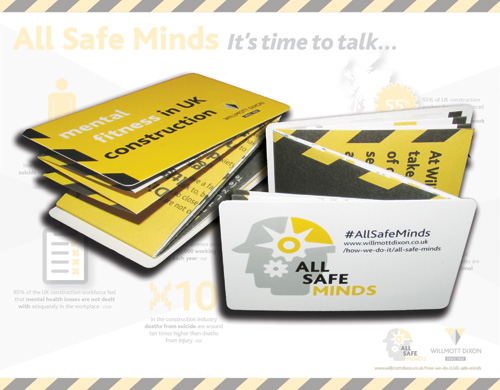 Willmott Dixon continues to raise awareness of mental health issues in the UK construction sector by releasing an informative 'Z-Card'.
To support the on-going 'All Safe Minds' initiative, all operatives across Willmott Dixon project sites nationwide receive an initial introductory presentation on mental health. The Z-Cards are being issued to all attendees, providing reference to a number of well-established mental health resources.
In 2017, Willmott Dixon released an infographic, which revealed some 'disturbing' statistics relating to issues affecting certain male groups working in construction across the UK. The statistics highlighted the problem that, in general men don't find it easy to talk about mental health problems. Willmott Dixon says it has resolved to do all it can to encourage the conversation.
The new business card-sized aide has been designed to fit easily into a pocket or wallet, offering a subtle source of reference for anyone who feels they might need some help or just the chance to chat.
Mark French, head of health, safety and environment for Willmott Dixon Group, said: "Since the launch of our All Safe Minds initiative in 2017, momentum has been building around the issue of mental health in our industry. Our long-term aim is to completely quash the notion that talking about your problems is a weakness, and for it to become a natural mind-set for men to seek help if they become overwhelmed by their own personal situation."
Mark continued: "The Z-Card will be handed out across our business – both internally and externally. The logo and ethos is already commonplace across Willmott Dixon sites, and throughout 2018, we will continue to roll it out to a wider construction audience until All Safe Minds becomes ingrained into our everyday culture."
For more information and a list of support services, visit www.willmottdixon.co.uk/how-we-do-it/all-safe-minds. Alternatively, search All Safe Minds or use the hashtag #AllSafeMinds.