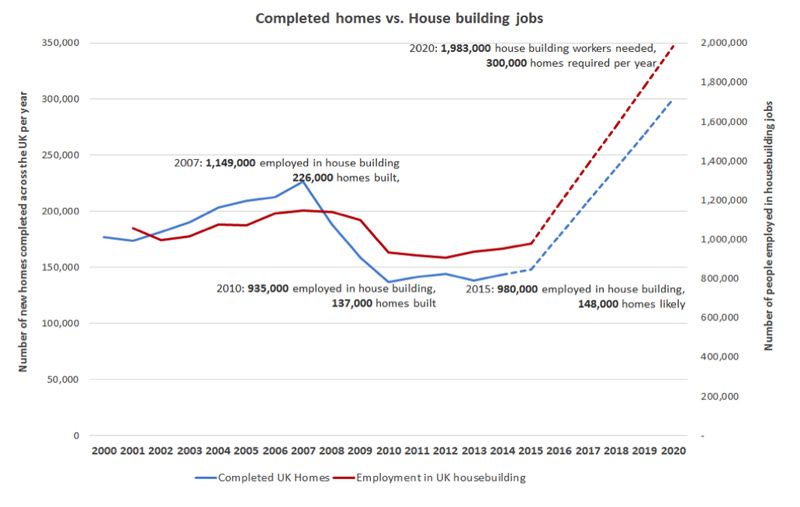 The UK will need one million additional workers over the next four years if house-building targets are to be met, according to new analysis from specialist recruiter Randstand CPE.
As of 2015, Randstad claims there are 0.98m people working in trades and professions related to residential construction, which as a sector is expected to reach 148,000 new home completions this year. To build 300,000 homes a year by 2020, which is considered by some to be the amount needed to meet nationwide demand, the UK's house-building workforce will therefore need to reach just shy of 2 million.
This means there will need to be a 102% increase in the house-building workforce which, even with a steady pace of recruitment beginning immediately, means finding at least 200,000 extra workers every year until 2020 to reach Randstad's estimate of 1,983,000 required workers.
While labourers, carpenters and plumbers are the top three types of worker needed according to Randstad, there will also need to 14,000 additional roofers to meet house-building targets.
The analysis follows the recent claim by housing minister Brandon Lewis that house-building success under the Conservative Government would see one million homes built by 2020. However, many have claimed this cannot be delivered unless the shortage of skilled workers is first tackled.
Owen Goodhead, managing director of Randstad Construction, Property & Engineering, said: "Doubling the rate of house building will mean at least doubling the workforce involved too. The housing crisis is a skills crisis too. That means a practical challenge for workers as much as it is a conceptual issue for politicians. Employers will need to prepare as carefully as planning departments, and we need to lay the foundations of a skilled workforce as much as we need foundations in concrete.
"We are entering a new age of house-building – if we aren't facing a generation of homelessness. This will take a new practical generation of men and women with the right skills and the colossal ambition needed."
Randstad's research also found that due to the current population of workers within the house-building sector, action is needed immediately to bring young people into the sector. It found that one in ten house-building workers are currently more than sixty years old – while 4% of the total are actively considering retirement. A further 9% of existing workers are currently aged between 56 and 60, and will therefore join the ranks of the 60+ by 2020.
At the other end of the spectrum, 28% are between 26 and 35 years old, while just 7% of house-building workers are aged between 16 and 24.
Owen Goodhead believes this lack of young workers in the industry is down to the fact that school-leavers are unaware of the opportunities available to them in the industry. He said: "Practical training and development need to be embedded in the education system. School pupils and school leavers need to know they can earn more than £40,000 as a bricklayer and upwards of £60,000 in a project manager job – then young people need the means to get there. That means a real revolution in how we provide courses, and apprenticeships in far larger numbers."
This message has been echoed by other commentators in the construction industry. Lyndon Wood, chief executive of insurance specialist constructaquote.com, said: "It's imperative that we attempt to source the root of the problem by tackling the reasons behind why such a low percentage of young Britons and school-leavers aren't interested in a career within construction.
"If we are to harness the power to grow our construction sector by introducing the additional 1 million workers needed to meet the 2020 housing demand, we need to make sure that we're not neglecting to present young people to the opportunities available to them."
This has also been reflected by workers on the ground, with more than a quarter (26%) saying there is a lack of awareness about job opportunities, while a further 26% say there is a perception among some candidates that house-building and construction jobs are poorly paid without basis in reality.
However, the main cause for young people not choosing to join the house-building sector – according to 31% of those already working within the industry – is a lack of training opportunities.
Almost one in three construction workers currently involved in house-building (32%) also say there is a prejudice against the construction industry as a career path emanating from parents, teachers and careers advisers.
Owen Goodhead added: "In order to fill the need for homes in the UK, we need to address the skills gap. This needs to start with a reform in our education system making the construction industry more appealing to younger minds and all backgrounds.
"Through the right structure and reform, we can help solve these house building difficulties in order to provide the next generation with the jobs and housing they will need."