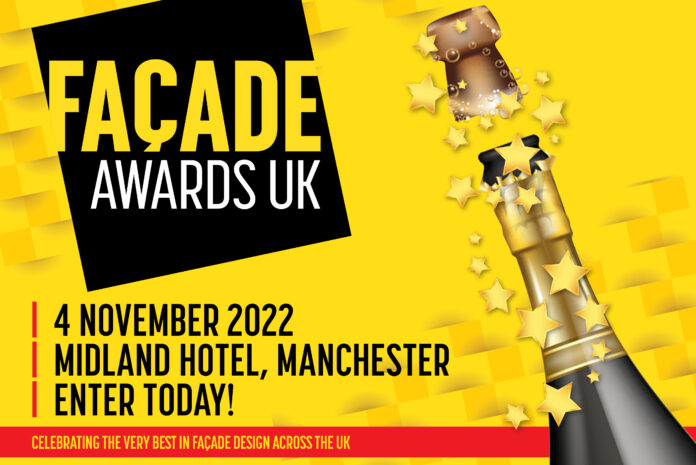 The deadline for the Facade Awards UK has been extended from 27 March to Friday 10 June!
With two weeks now added to the clock, entrants have been given plenty of time to finish the applications they have already started and anyone thinking of entering now has plenty of time left to do so!
The Façade Awards UK, which is now in its third year, returns on Friday 4 November, 2022 at The Midland Hotel in Manchester, to recognise and reward outstanding examples of façade design and promote the creative and innovative use of products or materials.
After a successful live event, we are delighted to be launching the 2022 awards, so if you think you have excelled on a project that has demonstrated technical ingenuity, innovative design or advanced façade engineering, we want to hear from you!
Considering the challenges we continue to face as an industry, there is no better year for you to enter the Façade Awards UK to give your business that competitive edge by demonstrating your award-winning potential in front of the industry's leaders.
Being shortlisted for the awards will earn you and your company recognition within the façade and wider construction industry – opening doors to securing new business opportunities. Earning a 'highly commended' or ultimately, winning an award will gain entrants national recognition and provide the opportunity to make their mark on this important market.
There are 12 award categories for you to enter, celebrating excellence in project delivery, and crucially, delivering positive outcomes for the industry.
From innovative product design and materials used on a project, to the complexity of the installation, the Façade Awards UK recognises achievements through a range of categories and criteria, which will be taken into consideration by the independent panel of judges.
The awards categories are
Best new build project
Best refurbishment project
Most sustainable building
Best use of a curtain walling system
Best use of fibre cement cladding panels
Best use of a timber clad system
Best use of a composite panel system
Best use of a brick slip cladding system
Best use of a rainscreen system using aluminium
Best use of rainscreen using specialist metal, to include (zinc, copper, brass)
Best use of a rainscreen system using glass or ceramics
Outstanding contribution of the year
RCI project of the year (This award is chosen by the judges from all of the finalists)
How to enter?
The awards entry process is really simple, making it an easy platform to gain recognition and shout about your successes. Entry to the Façade Awards UK is FREE, and you can submit as many entries as you wish.
So, if your project has been completed over the past 12 months and you would like to be a part of this fantastic event, then make sure you start your online entry early to ensure that you and your team put together your strongest entry possible and increase your chances of becoming one of this year's finalists.
The more information you provide and the better the images, the more likely your entry will stand out.
The Façade Awards UK team would like to thank James Hardie as headline sponsor, STOFIX, Minster and FGF Limited as its main sponsors, and Ash & Lacy, Gordian Building Solutions, Proteus Facades, BTS Facades and Fabrications, Fleming Software and RGB Facades as category sponsors, as well as A. Proctor Group as host sponsor with Cedral Facades as table gift sponsor and Wienerberger as drinks sponsor.
So don't delay and hurry while you can and we wish you the best of luck with your entries and hope to see you on Friday 4 November in Manchester!
If you would like to know more information about the sponsorship opportunities available for the Façade Awards UK, contact Tony Brown at tony.brown@markallengroup.com or by calling 01732 748059 / 07979 506896.