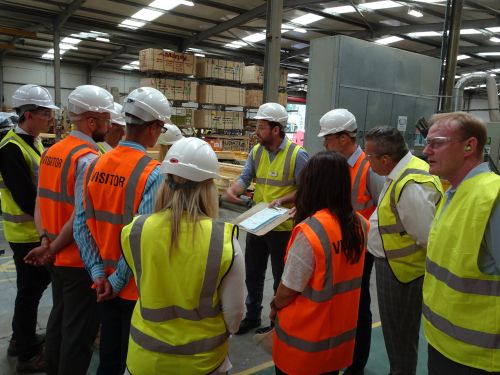 Pasquill recently invited a selection of its customers to an open day at its Redhill branch, offering an exclusive insight into the recent six figure investments made to improve how the design and truss manufacturing site operates.
The Redhill branch opened in 2006 with five shop floor operatives, and today there are 50 operatives, working over three shifts, meaning that the branch operates 24 hours a day, five days a week. This not only means there is excellent customer support available, but the site also offers many job opportunities in the local area.
Significant investments have been made recently to help improve productivity, quality and overall customer service. These include the latest technical Hundegger saw that allows a faster and greater flexibility of cut of timber, an AV Birch posi-press that has helped increase productivity and quality output, and a laser system which has improved the build and quality of trusses. The site also has a new dedicated fleet of vehicles to ensure the site can meet the demand from its customers.
Igor Marcius, site operations manager at the Pasquill Redhill branch, said: "The open day was a great success. It was a great opportunity for us to present the significant investments made to the site that allows us to produce high quality products in a short period of time that our customers expect from us."
Ross Baxter, managing director of Pasquill and International Timber, added: "It was a great pleasure to be at the Redhill open day and to be able to meet some of our important customers. We received some excellent feedback from those that attended, and I felt proud to be able to showcase the recent significant investments made to the branch."