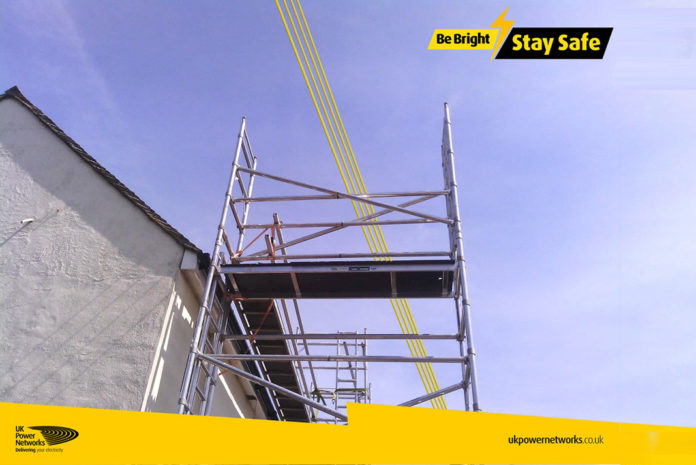 Scaffolders and roofers are being reminded of the risks associated with overhead electricity wires as part of the Be Bright Stay Safe campaign by UK Power Networks.
When equipment or machinery is used near overhead lines the risks must be considered and controlled in the interests of everyone's safety.
Emma Palmer, education and engagement advisor for UK Power Networks, said: "Overhead electricity wires carry a powerful electric charge which can conduct through machinery and equipment.
"A moment's loss of concentration can result in accidental contact with electricity which can result in serious injury or death. Imagine the impact this would have on family and colleagues. Always contact UK Power Networks for advice on shrouding or disconnections before starting work."
Emma gave some guidelines to follow to keep everyone safe:
Contact UK Power Networks for copies of cable plans showing where cable plans are situated and mark this information on your site plan
Assess your safe working clearances to overhead power lines
Ensure everyone working on site, contractors and casual workers are aware of the location and voltages of overhead power lines
Find out the maximum height of any equipment and machinery when all parts are fully extended
Clearly signpost the dangers with high visability warning notices
Finally: Check, look up and around for power lines before starting work
UK Power Networks wants a range of organisations, including associations and businesses, to commit their support to its 'Be Bright, Stay Safe' campaign.
The pledge is designed to raise awareness of the risks of coming into contact with overhead or underground power lines and increase understanding of how to work safer.
A key message is for firms to endorse the view that 'everyone has the right to go home safe after a day's work'.
The 'Be Bright Stay Safe' pledge is about motivating people who work around, or who may come into contact with, the electricity distribution network to adopt safe behaviour.
Those who sign up will be encouraged to share pictures and stories of safe working practices through digital channels including blogs and vlogs as well as via social media.
The 'Be Bright, Stay Safe' campaign page with free downloadable resources can be found at https://www.ukpowernetworks.co.uk/internet/en/safety/staysafecampaign2/