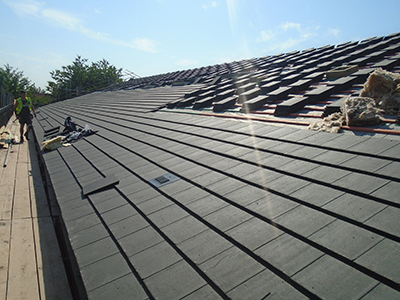 Roofing specialist Martin-Brooks says turnover and employee numbers have risen by 10% at in the last 12 months, thanks to success in both the domestic and commercial sectors.
Despite its growing size, 90% of staff are still employed directly and all live locally, reinforcing the firm's commitment to the South Yorkshire community.
Martin-Brooks attributes this increase in turnover to the development of its reputation nationally, which has led to flat roofing projects as far a-field as Inverness, Penrith, Ipswich and Plymouth. In addition, higher levels of interest have been recorded from homeowners, with enquiries up 25% in the first half of the year alone.
Through the summer, the firm undertook refurbishment and re-roofing contracts at a record 14 educational establishments, ranging from local primaries to a further education college in Staffordshire. Its specialist heritage roofers have also worked on an array of listed buildings this year, including churches, stately homes and a castle.
John Elmore, Martin-Brooks' managing director, said: "Interest in our full range of services has remained buoyant all year and by ensuring the size of our team keeps pace with demand, we have been able to respond quickly to urgent domestic repairs and still commit to the large, time-consuming projects often found in the commercial and heritage sectors.
"Although our work is now taking us across the UK, we are committed to employing local people and are very proud to retain such a close-knit, highly skilled team. Our investment in employee development continues at all levels and we currently have three apprentices in their third year of college, who are set to make a valuable contribution to the future of the firm."