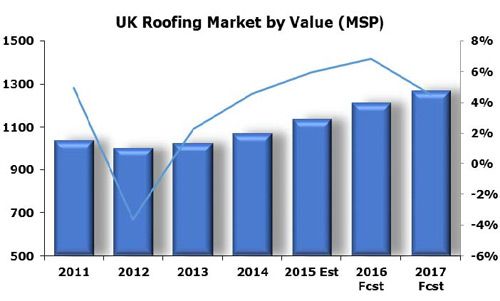 The roofing sector grew by around 4.5% in 2014 according to new findings published by AMA Resarch, suggesting the sector has successfully recovered from a 'period of relatively poor performance' in 2012/13.
The 'Roofing Market Report – UK 2015-2019 Analysis' also forecasts that this growth will continue in the remainder of 2015, with market value set to reach 6% growth. This is expected to continue in the short and medium term future with 'reasonable volume growth.'
The roof tile market has proved to be a major success story in the sector, having benefited from Government schemes like Help to Buy. The market has also benefited from a shift in residential construction from flats to houses, leading to demand for roof tiles outpacing supply in the past few years.
AMA Reasrch says roof tiles account for up to 40% of the roofing market by value, with concrete tiles constituting the largest sub-sector by both value and volume.
Flat roofing has also experienced growth, with membranes and felts accounting for around 15% of the market. Single ply membranes are reportedly increasing in popularity and account for almost a third of the market. In the longer term, these products are expected to show higher than average growth.
Keith Taylor, director of AMA Research, said: "Over the short to medium term we expect reasonable market growth, largely driven by private housebuilding activity, although the end of the Government's 'Help to Buy' scheme may be a constraint. Other end-use sectors likely to show increased demand are commercial offices, industry and leisure, reflecting expected recovery in the commercial new build sector as well as commitments to further expansion in Advanced Manufacturing and waste management."
However, Mr. Taylor has warned that the roofing sector could be hit by cuts to public spending. He added: "Cuts to public sector capital investment will continue to have a negative impact, leading to declines in demand for roofing on public sector offices, MoD and healthcare newbuild works."
For more on from Keith Taylor on the state of the UK Roofing market, read his latest article for RCI magazine here.