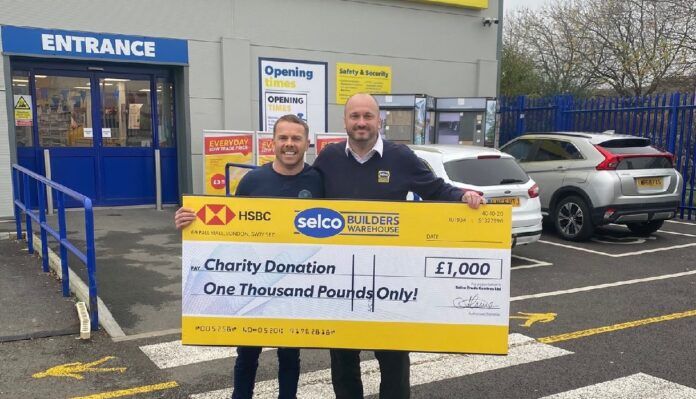 Selco Builders Warehouse has supported an ambitious project to create a specialist homeless facility in Salford with a donation of £1,000 worth of materials.
Property developer James Worthington is building a new property on the site of a former carpet shop in Seedley Road which will include eight self-contained apartments, each capable of housing up to three people, due to be completed in March 2024.
James initially purchased the site to build flats to sell on for profit but, after supporting the local community throughout the covid pandemic and inspired by his own troubles of the past, had a dramatic change of plan to build the new facility.
He said: "During the pandemic, we used the building to house the homeless and as a soup kitchen.
"It inspired me to build something which will create a long-lasting legacy to support those who are homeless in the local community.
"I know exactly how those people are feeling because that was me about 30 years ago.
"I ran away from home when I was 14 and slept anywhere I could before my friend's dad let me stay with them and then had another bout of homelessness again in my 20s.
"With the help of a lot of people, I managed to turn my life around but it helps that I know what these people have been going through.
"We want to create a project that helps people out for more than just a few days. We will have life coaches, job opportunities and the service will be run by homeless charities to ensure that we are doing everything we can to help people get their lives back on track.
"I've sold and refinanced many of the properties I had to fund the project but it still needed a lot of support from the local community.
"Selco have been fantastic and the donation has been crucial to reaching the point we have now in the building works."
Simon Lee, branch manager of Selco Salford, added: "From the moment I met James, I was inspired by the vision he had.
"It's a fantastic project which will make a real difference to homelessness in the local area and we are thrilled and proud to be playing a very small part in helping James deliver this exciting initiative."