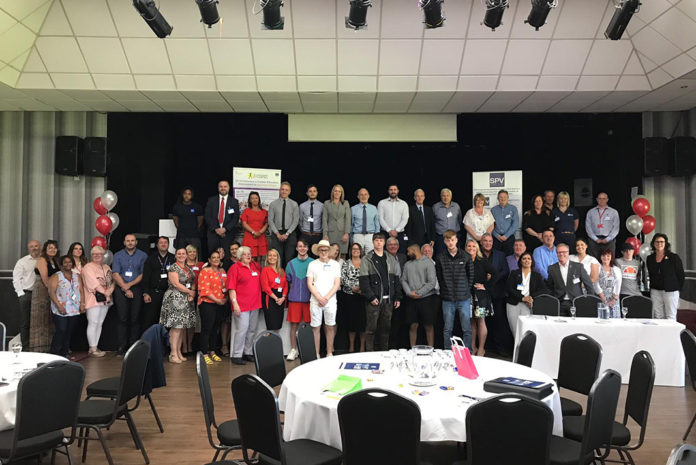 SPV Group in conjunction with Juniper Training recently hosted an official launch event for its newly formed Training Hub.
SPV and Juniper have developed a free bespoke offer that will equip young people aged 16-18 with everything they need to be construction-site-ready to progress into employment or on to an apprenticeship.
Delivered half from the SPV purpose-built workshop in Walsall and half from Juniper Training in Walsall, upon completion students will have gained a CSCS Card, Level 1 Introduction to Construction, Manual Handling, Asbestos Awareness and Manual Handling Training as well as hands on industry-specific practical training. Where needed, students can also do GCSE retakes and/or English and maths Functional Skills qualifications.
Officially opening to students in August 2019, SPV Group welcomed any parents, 16-18 year olds who are interested in completing the course (including those in Year 11 currently who would be interested in a construction career), students registered on the course, schools, partners, employers and stakeholders to join them at the official launch.
Kate Whatley, commercial director of SPV Group, said: "It was fantastic to see so many people there supporting this new initiative for our industry that SPV in conjunction with Juniper training have created.
"We officially welcomed some of our new students, our new assessors, careers advisors, school representatives, the NFRC, industry contractors, industry manufacturers, training bodies including the CITB, Midland Roof Training Group, Yorkshire Roof Training Group and businesses in the community and, of course, Juniper training.
"The partnership between both SPV and Juniper training has been absolutely fantastic since we were connected 15 months ago and it was amazing to see the industry collaborating to ensure that we are encouraging new entrants into our industry and creating opportunities for young people who want to enter our industry but don't have a clear pathway.
"What was quite recently just an idea has quickly become a reality and thank you to everyone who has been involved and supported to make this happen!
"We can't wait to get started in August!"
The guest speaker Joe Egan thoroughly entertained the guests along with a number of SPV apprentices, Juniper business development manager, Samantha Broomhall, SPV commercial director Kate Whatley and Juniper chairman Richard Holt as well as SPV MD, Howard Evans.
Walsall FC manager, Darrell Clarke, undertook the ribbon cutting ceremony and officially opened the facility.