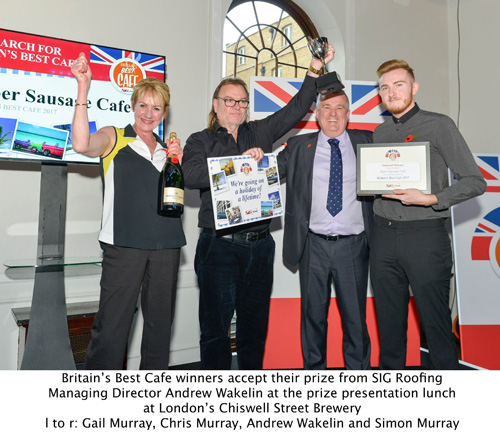 As the official media supporter of Britain's Best Cafe 2017, we've kept you up to date on all the exciting, key developments in this year's exciting competition and now it gives us great pleasure to announce that the Super Sausage Cafe from Potterspury, Northampton has been declared Britain's Best Cafe.
The five-month competition, organised by SIG Roofing and its 120+ branches nationwide, came to an exciting conclusion in London on Thursday, November 9, when guests at the presentation lunch, including the competition's Regional Winners, raised a glass to toast the successful National Winner.
Andrew Wakelin, managing director of SIG Roofing, hosted the presentation lunch at the famous Chiswell Street Brewery. When asked why the company decided to run Britain's Best Cafe again in 2017, he commented: "Quite simply we were bowled over by the response we had last year and the popularity of the competition with both ours and the cafe customers. And this year things got even better, with over 500 cafes entering and an even greater number of public votes than ever before."
Andrew offered his thanks and congratulations to all those who played their part in the highly successful competition, which the company arranged to recognise and celebrate the role that the British cafe plays in helping the nation get through their working day courtesy of the famous bacon buttie, legendary British breakfast or a tasty lunch.
Before presenting the Regional Winners with their awards, Andrew added: "Britain's Best Cafe celebrates a great institution that's recognised worldwide. It's also an opportunity for SIG Roofing to recognise that without community engagement, we wouldn't be a business that is able to enjoy some of the excellent relationships that we have with our customers in our branches across the UK."
Finally, with all eyes fixed firmly on the envelope in the host's hands, the tension mounted as Andrew announced the name of the National winner and the triumphant team from Super Sausage Cafe jumped up to accept their trophy and prize of a luxury, once-in-a-lifetime holiday, as the proud titleholder of Britain's Best Cafe.
We caught up with Janine Brady, SIG Roofing's marketing manager, shortly after the presentation lunch: "RCI magazine has given us terrific support for Britain's Best Cafe 2017, really helping to spread the word amongst the UK's roofers and contractors who have supported their favourite cafes throughout this popular competition."
We look forward to the search for Britain's Best Cafe 2018!