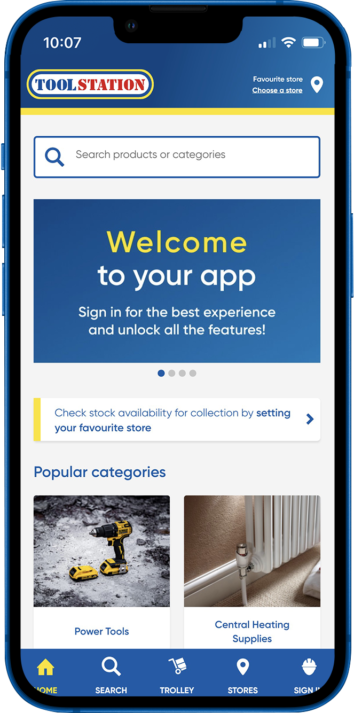 Toolstation's customer app has surpassed one million downloads after launching in August 2021, with researching suggesting that a third of the business' customers now prefer to shop via the app.
Tradespeople can search through over 25,000 products by category on the Toolstation App through its quick search bar or by type, price, brand and features, and have them delivered to their site or home.
Users can also instantly check stock availability at their nearest store in real time, save items for later through 'saved lists', and pay through the app.
Existing Toolstation Trade Account customers can pay through the app and customers can easily request to sign up too. At the tap of a button, they can check their credit account, pay balances and download invoices.
Ryan Hill, head of digital at Toolstation, said: "Achieving one million downloads is an important milestone for Toolstation's App and this achievement complements our printed catalogue and online offering, making it truly multi-channel. We expect digitally enabled sales to continue to grow over time as customer behaviour evolves.
"Our app makes it easy for tradespeople to work smarter and quicker by ordering to their nearest site or home and they can manage their accounts from their pocket. At just the tap of a button, our customers can check their credit accounts, pay balances and download their invoices, which means they can quickly wave goodbye to large amounts of paperwork."