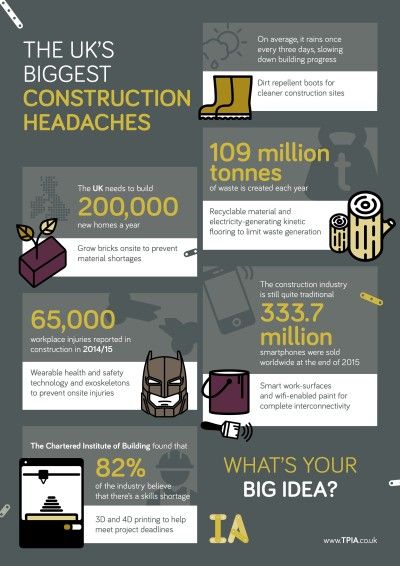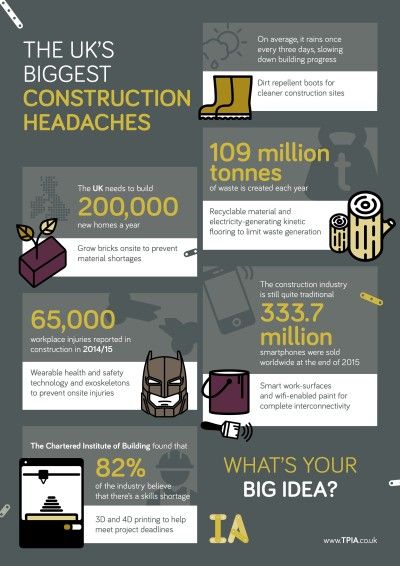 Travis Perkins has announced the launch of the Travis Perkins Innovation Awards as part of its pledge to support customers by promoting and encouraging innovation.
A recent survey of contractors, house-builders, manufacturers and staff have revealed a number of common industry-wide problems including a shared frustration with the weather, with high levels of rain blamed for construction delays, muddy working environments and the reduced effectiveness of certain building products.
Health and safety was also a primary concern, from using heavy materials and equipment at height to manual handling injuries, and it was universally agreed that solutions were needed to reduce waste levels and address the looming skills gap.
To tackle these collective problems, Travis Perkins has launched the first ever Travis Perkins Innovation Awards (TPIA). The search is now on for groundbreaking product solutions with entries open to anyone in the construction industry, as well as inventors, universities, students and colleagues from across Travis Perkins. Entries from simple sketches to detailed proposals are being accepted.
Norman Bell, group strategy director at Travis Perkins, said: "This is a golden opportunity for those in construction who face daily problems that are a barrier to progress and profit, as well as for creative minds that want to make a difference to a vital industry sector. As well as a general product innovation category, we're looking for solutions to the issues our survey identified; namely safety, skills, sustainability, and productivity.
"The Awards are not just important for recognising ideas that could solve some of the industry's headaches, but also to move the industry forward and future-proof an important economic stream. As a major UK employer with 21 businesses, it's vital that we encourage innovation and skills, build the best and most innovative service possible for customers, and tackle major issues such as sustainability."
The closing date for entries is June 30, 2016, with winners announced at the end of September 2016. Prizes may include financial investment and business support for product and idea development, an opportunity to trial products in selected Travis Perkins locations around the UK, or business mentoring and support from Travis Perkins' senior team.
For further information or to enter the Travis Perkins Innovation Awards visit www.tpia.co.uk.