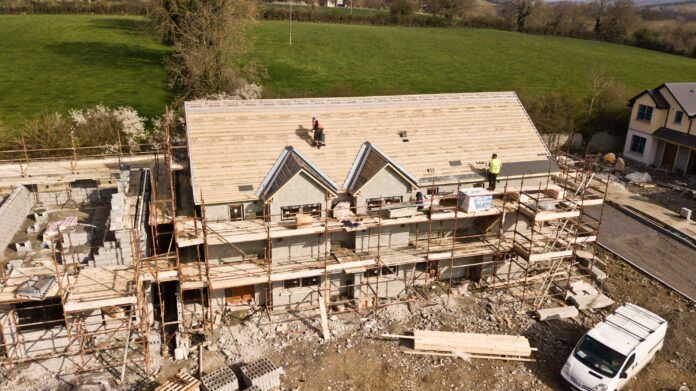 New housing starts are forecast to drop 40% in 2023 – the biggest fall since the 2008 financial crisis, new figures have revealed.
Statistics released in the UK Trade Skills Index 2023, from Checkatrade.com have revealed that the government is unlikely to hit the target of 300,000 new homes built each year by the middle of the decade.
The figure for 2022 was around 215,000 but for 2023, the report has indicated that rather than rising to hit the target set in 2019, it will instead reduce to around 130,000 new homes.
The report noted that the housing market chaos will mean a sharp fall in house prices and downturn in transactions. A year-on-year fall of 10.5% in house prices this year is now anticipated, before growing 1.3% and 4.8% in 2024 and 2025 respectively.
The report said that looking forward, the dramatic weakening in the housing market over the next two years will weaken growth in new construction output in the near term.
But while the fall in prices and housing starts is "significant", the period of market weakness will fall short of that seen after 2008's financial crash. With banks now well capitalised, lenders will be in a better position to support the eventual recovery "quite quickly".
That will help a faster than anticipated recovery, the report said, with construction output likely to grow by an average of 1.6% in the years to 2027. Later, and into the next decade, new build housing will be constrained by the expected deceleration of growth in the number of households. It predicted new work to grow on average by 1.2% a year in the years 2028 to 2032.
The report also revealed the huge skills gap facing the UK construction and repairs industry, with trade sector vacancies at record highs (particularly in bricklaying, carpentry, plumbing and electrical) due to an ageing workforce, exodus of EU workers post-Brexit, and the cost of living crisis.
The report noted that 937,000 tradespeople are needed to meet demand within the next decade, with 244,000 needing to be qualified apprentices to plug a growing skills gap.
Richard Harpin, the founder of HomeServe, which acquired Checkatrade.com in 2017, said: "The findings of this report are striking and it appears that target for 300,000 homes a year will be a step too far.
"A hugely difficult few years including slow local planning decisions, the pandemic and war in Ukraine have had a detrimental impact on the UK's housing market.
"It appears there are glimmers of hope there but I'm afraid these figures indicate things are going to get worse before they get better."