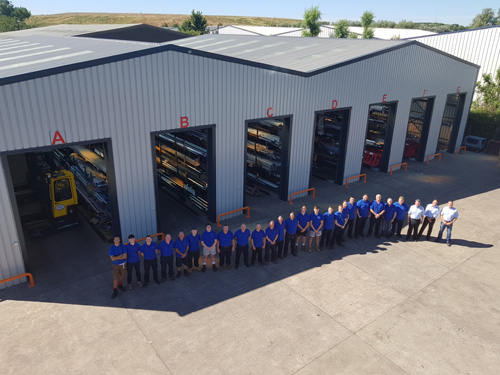 Welsh aluminium fabricators, Dudley's Aluminium has expanded its facilities following a period of strong growth.
Dudley's Aluminium, which is based on Lamby Way in Cardiff, has invested more than £200,000 on a new storage and offtake facility, as well as a second Combilift multidirectional forklift, to ensure smooth and efficient operations, and improved productivity of its materials handling at its manufacturing facility and storage unit.
The recent expansion means that Dudley's storage capacity has doubled, while it has also freed up space within the main factory, allowing a net increase in dedicated fabrication space of over 50%.
The investment in the new facility follows a period of growth for the company, having won a number of contracts over the last 12-months, ranging from the redevelopment of Central Square Cardiff to work on new facilities for many universities including Cardiff, Swansea, Bath and Cambridge.
Speaking about the investment, Colin Shorney, managing director of Dudley's Aluminium, said: "We are pleased to have made this significant investment in a new facility to help make our operations more efficient. The last 12-months has seen a strong period for Dudley's Aluminium in terms of contract wins and with the new facility we can ensure the smooth flow of materials on a project-to-project basis."