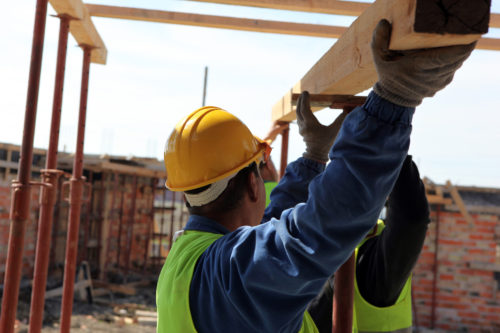 After a six month delay the construction sector deal worth £420 million has been launched today and will see cooperation between the construction industry and the government. The £420 million will be made up of £250 million from the construction industry and £170 million from the government, including £34 million for training programmes. They have called this a "bytes and mortar" investment that will reportedly transform construction through the use of digital building design, new technologies and offsite manufacture. The deal also seeks to increase apprenticeships to 25,000 a year by 2020
Business and energy secretary, Greg Clark, said: "The construction industry is fundamental to growing our economy as we build to invest in our future. Major infrastructure projects like HS2 and the commitment to deliver 1.5 million homes by 2022 mean that we need a construction sector that can drive innovation, delivering homes and infrastructure quicker.
"As buildings account for around 30% of total emissions, we also want to ensure that we are at the global forefront in designing and building smart, energy efficient and affordable homes and buildings through the Clean Growth Grand Challenge, saving families money on their bills.
"This Sector Deal is supported by the biggest government investment in construction for at least a decade and will drive economic growth and create well-paid highly-skilled jobs in every part of the UK."
We have collected some responses to the Construction Sector Deal from the Construction products Association (CPA), the National Federation of Builders (NFB), Saint-Gobain UK, the Confederation of British Industry (CBI), the UK Green Building Council (UKGBC) and the Construction Industry Council (CIC).
Construction Products Association
Peter Caplehorn, CPA deputy chief executive and policy director, said: "These are ambitious plans that will improve and modernise the construction sector, whilst providing much-needed reassurance to the supply chain as Brexit-related uncertainty continues to weigh on activity. We welcome government's recognition of construction as one of the UK's most important sectors, and construction product manufacturers are at the very heart of its success – with 80% of all products used in the UK being made in the UK, we support nearly every construction project.
"Our sector has already demonstrated where we can spark the 'bytes and mortar revolution' through off-site manufacturing and advanced manufacturing technologies that deliver high-quality buildings more quickly and efficiently, boost productivity and make a more interesting offer to our workforce.
"We were also pleased to see the Construction Products Association's work around LEXiCON and product data referenced in the Sector Deal, as we believe this will be key to ensuring that homes and buildings perform as intended and are safe for those who use them.
"It is promising to see government commit to a long-term vision. Now government and industry must work together to deliver real results on the ground."
National Federation of Builders
Richard Beresford, chief executive of the NFB, said: "This is a deal that recognises all parts of the construction industry and how, alongside the government, can work together to deliver growth and a positive global reputation for UK plc."
Saint-Gobain UK
Mike Chaldecott, General Delegate for Saint-Gobain UK and Ireland, said: "As I have been leading on the issue of industry innovation for the Construction Leadership Council, over the last two years I am particularly pleased about investments that will be made in accelerating innovation – raising levels of R&D focused on digital and manufacturing technologies, attracting investment into offsite manufacture and using precision design and offsite manufacture to minimise construction waste."
Confederation of British Industry
George McFarlane, CBI sector development director, said: "Businesses will welcome the Construction Sector Deal, which firmly recognises construction's indispensable role in driving growth across the UK as part of the Industrial Strategy.
"With the industry needing to fill 158,000 roles over the next three years, the announcement of new training programmes to help develop the sector's skills pipeline is particularly encouraging.
"According to a recent CBI survey, 70% of sector construction firms believe the government primarily awards contracts on the basis of who provides the lowest cost. The future health of the sector will therefore require the government and its suppliers to work together closely to ensure contracts are always focused on long-term value."
UK Green Building Council
Julie Hirigoyen, chief executive at UKGBC, said: "We welcome the long-awaited Construction Sector Deal as an opportunity to transform the capabilities of the industry and deliver more sustainable places. The move towards considering the whole life value of assets will bring into greater focus the importance of balancing the running and maintenance costs of a built asset with the initial investment. It is also good to see a commitment to the development of consistent design and performance benchmarks, which will allow the industry to better understand how well buildings actually operate and provide feedback to improve designs.
"It is encouraging that the 2025 target to halve emissions from the built environment sits at the heart of the sector deal. The government's Clean Growth Grand Challenge can help to drive this transition and set us on a path to a net zero carbon-built environment. But targets and aspirations will only get us so far and it is vital that these low carbon objectives are swiftly integrated into the wider policy framework for building regulations and energy efficiency."
Construction Industry Council
Graham Watts OBE, CIC chief executive, said: "We have all awaited this announcement for quite a while but in the background, work has been ongoing towards bringing the deal into effect. CIC is happy to be working with both BEIS (and the Construction Leadership Council) to stop the race to the bottom in terms of construction procurement and the MHCLG (and the Industry Response Group) to enhance the competency of all those working on higher-risk buildings."
Andrew Wolstenholme, co-chair of the Construction Leadership Council, said: "As the Secretary of State has made clear, securing this deal sends out a statement about the vital contribution our sector makes to the country. We build the schools to educate the young, the hospitals to care for the sick, the police stations to keep us safe, the roads and railways that get us to work, the power stations that keep us warm and the homes we return to each day. For those reasons and more, we are an industry that must drive forefront the UK's future growth and prosperity – and I'm confident that this deal will ensure we achieve that."