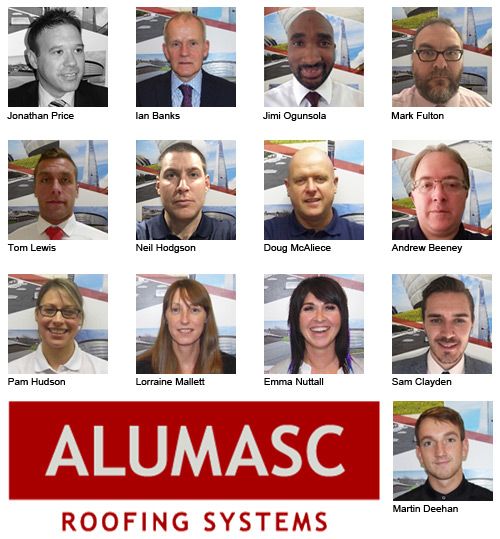 The 2014/2015 financial year proved to be a highly productive year for Alumasc Roofing Systems with profits at an all-time high. High quality, continuously improved and evolving roofing products have helped Alumasc position themselves within the market place as the ideal solution to any roofing project varying from green roofs, bituminous membrane roofing through to liquid solutions.
In order to further heighten the level of support to existing stakeholders and potential new customers Alumasc have increased their commercial, sales and marketing teams to provide a focus that will create a seamless, regional focus for specifiers and contractors. This support also includes educating existing customers to the various products and systems available to them as well as the support packages which include warranties of up to 35 years.
Introducing…
Jonathan Price – Alumasc Roofing Systems: National Business Development Director
Jonathan brings a wealth of experience from his previous employment with Liquid Plastics Limited and more recently, Centaur Technologies Limited. With over 10 years within the industry Jonathan will assist the existing senior management team in identifying, outlining and analysing new opportunities within the roofing market place across the whole range of systems – nationally. Call 07467 339 403
Ian Banks – Blackdown Green Roofs: National Commercial Manager
Assisting in the further growth of component sales for Alumasc's Blackdown Green Roof range. Ian's past experience within the green roof industry is both from a waterproofing manufacturer and more recently a sub contractor's view point which makes him the ideal package to help provide Blackdowns' new and existing customers with all the elements and solutions to make their green roof projects a success. Ian will liaise closely with existing contractors on a daily basis. If you would like to speak with Ian in regards your green roof project please call 07464 491 904.
Jimi Ogunsola – Roof-Pro: Southern UK Technical Sales Manager
Jimi will be working within the Roof-Pro team and alongside the Roofing Area Managers to help further develop the brand awareness and technical credentials. Jimi developed his skills and contacts within the M&E industry whilst working for Kingspan Industrial. If you need any further information in relation to Roof-Pro's Rooftop Management Systems please call 07468 742 056.
Mark Fulton – London and South East Area Manager – New Build
Mark's role is focussed towards new build specification opportunities as he has vast experience working for British Gypsum, Dryvit UK Ltd (EWI) and SAPA Building making him ideal for this position. Tel: 07720 883 617.
Tom Lewis – North West Area Manager
Due to heightened activity within the North West region Tom Lewis has been appointed to use his past experience in Construction Sales and Specification Markets. Previously an Area Manager at Kingspan Insulation Europe. Tel: 07780 339 684.
In addition, to help support the new members of the team and facilitate the rise in enquiries Alumasc Roofing Systems have made a number of changes in terms of the internal operations, staff and training to help make the customer journey and experience as smooth as possible.
Technical Support…
Neil Hodgson and Doug McAliece – London and Midlands Field Technicians
Neil and Doug have over 30 years combined practical experience working for and alongside roofing contractors and product manufacturers. They will be ensuring that the correct processes are followed from start to finish when Alumasc Products are being applied to projects thus giving the customer peace of mind that the job is completed to the highest of standards and meet the relevant warranty criteria(s). Neil Hodgson will be covering the London area with Doug providing cover to the Midlands.
Andrew Beeney – Southern Technical Manager
Andrew has gained over 20 years' experience within specification lead technical support as Senior Designer at IKO Group PLC. Highly skilled and efficient when dealing with technical roofing knowledge but also proficient in the use of all relevant software such as CAD and Revit, making Andrew a one stop shop for our southern customers when they are in need of product datasheets, technical drawings, product advice and best practices.
Turnaround time is key in this department and to be able to focus regionally really does help our clients. Recent market research has shown that the efficiency in providing our customers with the vital technical information they need is one of the main factors when keeping them loyal to the Alumasc Roofing Systems brand.
Customer Services…
Pam Hudson, Lorraine Mallett and Emma Nuttall – Customer Services and Relations
The additional new members of the Roofing Customer Services team will be providing extensive project tracking to ensure a smooth transition from initial orders through to delivery on site, they will also work closely with their relevant Area Managers to ensure that enquiries are followed up with the customer promptly and efficiency. Another key aspect to their roles will be to liaise closely with approved contractors when co-ordinating deliveries and ensuring the customer receives all goods on-time. Pam, Lorraine and Emma are familiar with these processes having been part of Alumasc Roofing Systems sister brand Harmer Drainage, a market leading drainage product distributed to merchants all over the UK.
The Future…
Sam Clayden – South West Assistant Technical Manager
Sam is new to the roofing industry and will be one of the first to enter into the 'investment in the future scheme'. Sam will be undergoing an intensive external and internal sales/technical programme with the end goal of becoming a fully operational Area Manager within 12/18 months. Sam comes from a sales background and has expressed his desire to work within the construction industry, Sam says: "This is an excellent opportunity for me to move forward with my desired career, the future scheme from Alumasc really excites me and I look forward to working alongside Architects and Contractors".
Martin Deehan
Also as part of the 'investment in the future scheme' Martin will be joining the technical support department as a trainee working alongside Alumasc's already experienced team. Martin is new to the roofing industry having spent the last two years working for the Alumasc Façade Systems business based in Linwood, Scotland. He will be undergoing an intensive training programme where he will initially be spending time in various departments to deepen his knowledge of the organisation and further help with his progression.