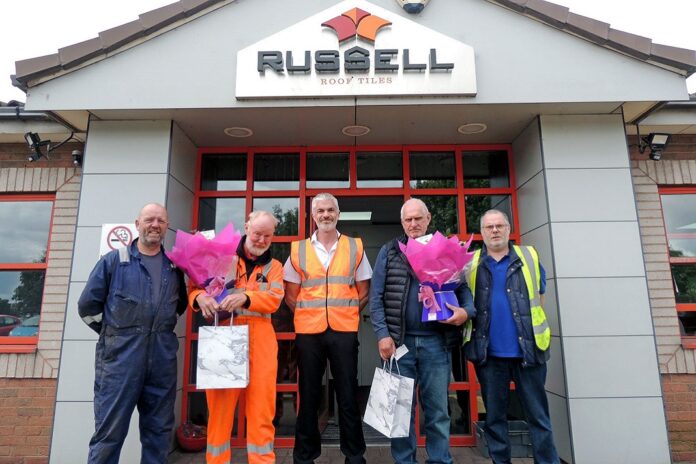 Russell Roof Tiles has celebrated two of its long-standing employees, Colin Dilks production forklift truck driver and Dave Brookes yard and resale operator, following their retirement after a combined 41 years at the pitched roof tile manufacturer's site in Burton.
Dave said: "I can't believe how quickly 18 years has gone; I remember my first day like it was yesterday. I've seen a lot of changes to the industry over the years, but nothing that RRT couldn't handle.
"Even a global pandemic didn't stop us. It's now time for me to slow down and relax, spend time with the family and most importantly, pursue my passion of studying horses." 
Colin added: "I am extremely proud to have been part of the company for so many years, but all good things come to an end. I'm looking at my retirement as a positive, I'll be able to spend more time with my family and enjoy the sunshine but of course, I'll miss working at Russell Roof Tiles and the incredible team."  
Bruce Laidlaw, operations director at Russell Roof Tiles, said: "At Russell Roof Tiles we make sure that we are supporting our employees so they can build successful careers with us. Colin and Dave are no exception. Having been pivotal members of the team for a combination of 41 years, they've witnessed significant changes that have allowed us to grow and expand our Burton site over the years.
"As a massive thank you from us, we presented Colin and Dave with gold watches, gift vouchers and flowers. We wish them both a happy and healthy retirement."
>>Read more about Russell Roof Tiles here.