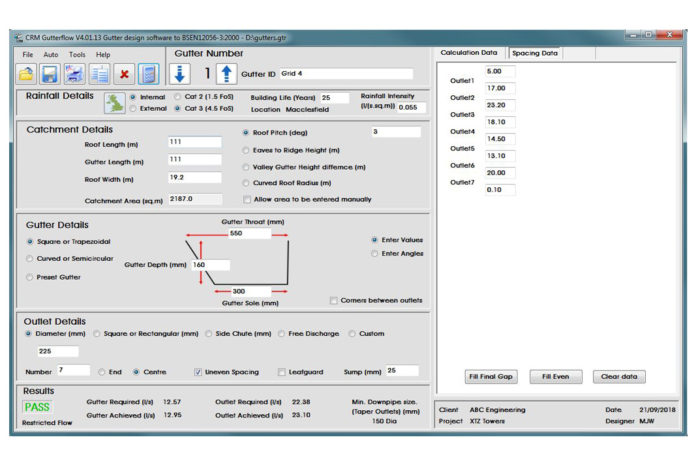 CRM Gutterflow has reportedly become the industry standard gutter calculation program since it first launched in March 2001. Many of the industry's companies are said to have relied on Gutterflow for years to carry out fast and accurate calculations on gutters ranging from the smallest external eaves on a tiny house, to gutters on some of the UK's largest developments.
Over the years, CRM Gutterflow has slowly evolved to bring in more features, but with the new version, the changes are said to be more significant, with a new layout and feel as well as core changes to the functionally of the program, as well as much better compatibility with modern operating systems and third-party programs.
CRM says it has tried to strike a balance between keeping familiarity for existing users, whilst introducing new ways of working to streamline the entry of data and optimisation of designs. In the new program, calculation and spacing data are shown as tabs on the main page, saving messy switching between pages. Entering uneven spaced data has become quicker and simpler, especially where some outlets are uneven, and others follow a set pattern. Automated functions allow gutter depth, width and outlet size to be optimised. Custom outlets can for the first time be programmed in, allowing proprietary outlets to be used within gutters if required to boost flows. Printing is now direct to PDF, with no need to obtain a third-party pdf printer.
CRM Gutterflow has reportedly helped a generation of designers to safely and effectively remove rainwater from our buildings; with this new version, Gutterflow is equipped to serve another generation for the future.