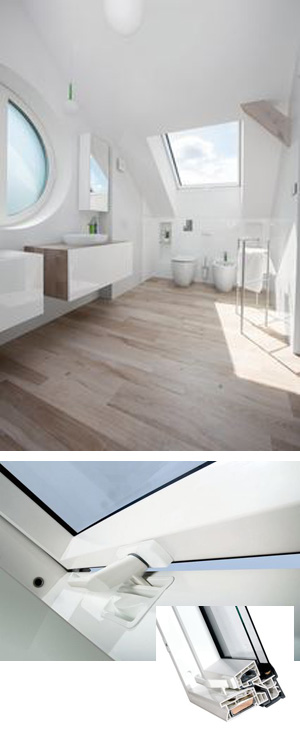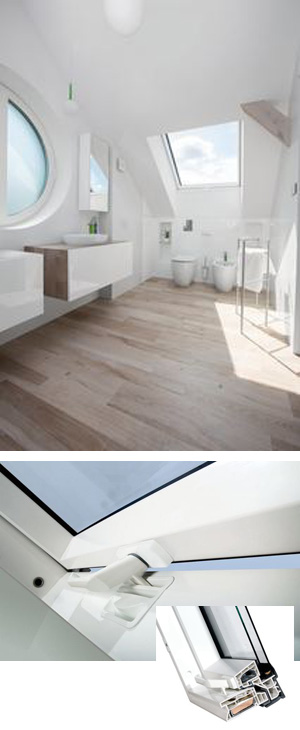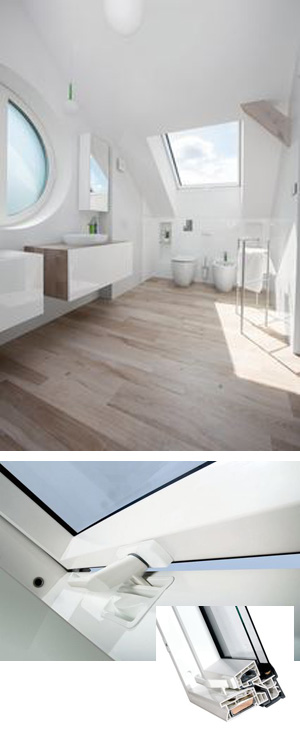 FAKRO believes that when you fit a roof window, you're designing a home, and one of the most important aspects of home design is room to breathe and the continual supply of fresh air.
Bathrooms and kitchens regularly become humid, resulting in damp and humidity that lingers through the home. To fight condensation FAKRO has innovated PVC windows by introducing condensation channels at the bottom and a V35 air ventilator in the head of the frame for improved air circulation.
The FAKRO V35 vent is positioned on the top part of the window frame. When fully opened, this inlet supplies fresh air up to 41m³/h at a pressure difference of 10Pa depending upon the window width. The V35 air inlet can in part discharge air when normal gravitational ventilation isn't working properly. The company says it's excellent venting efficiency guarantees that a greater amount of stale and humid air is removed from the room.
The product comes in a range of designs with the choice of either white polyurethane-coated pine, PVC in white, golden oak or pine finishes. There is also the 2for1 preSelect option, which allows for a transition between top hung or centre pivot opening, all with the flick of a switch. FAKRO's windows are also available in a variety of custom options, including non-standard sizes, additional accessories and with combination installation.
For housebuilders, our PTP-V XT version comes with a factory fitted thermal band and brackets that are fitted to the top and bottom of each window ready for quick installation.