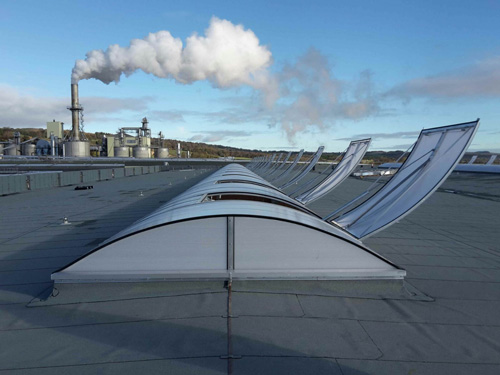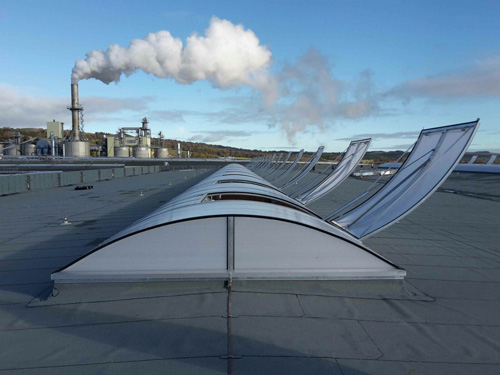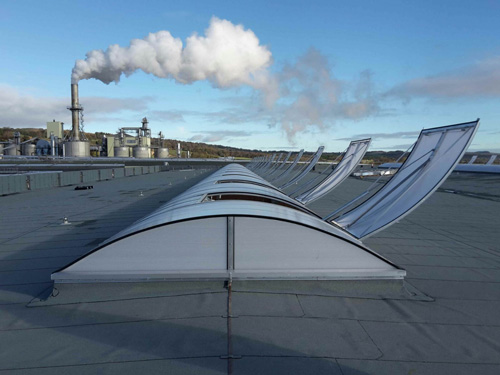 One of Europe's most technologically advanced chipboard manufacturing plants has specified Smoke Heating Exhaust Ventilation (SHEV) systems from Jet Cox to fulfil its stringent Fire Safety requirements.
In 2007, Egger embarked on the expansion and modernisation of its first premises outside of its native Austria, with a series of investments ensuring the plant became a forerunner within its industry.
Jet Cox says the Jet Group, in Germany, has a long and successful relationship with Egger and as part of the ongoing investment, its was invited to work with main contractor Borgel on the development of the Fire Strategy at the UK plant.
Jet Cox designed, supplied and installed a SHEV solution, combining a sprinkler system with 28 Jet-Vario-Norm Polycarbonate Pneumatic Rooflights.
The units are thermally controlled with wind and rain sensors, offering full automation in the event of fire as well as providing day-to-day natural ventilation. The company says the continuous system is one of the top selling solutions for both newbuild and renovation projects, presenting optimal building illumination and energy cost conservation in addition to unsurpassed fire protection.
Jet-Vario-Norm offers simple and fast assembly due to a high industrial prefabrication level, with reliable drainage and a clean, modern appearance. It is designed to European Standard BS EN 12101 for natural smoke and heat control systems and is suitable as a melt-out roof surface in accordance with DIN 18230. Long-term maintenance plans are also available, to ensure the longevity and ongoing success of the installed system.