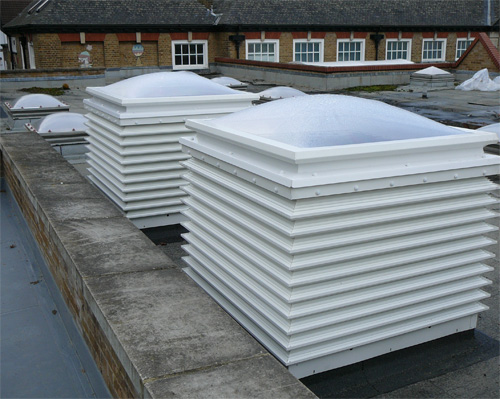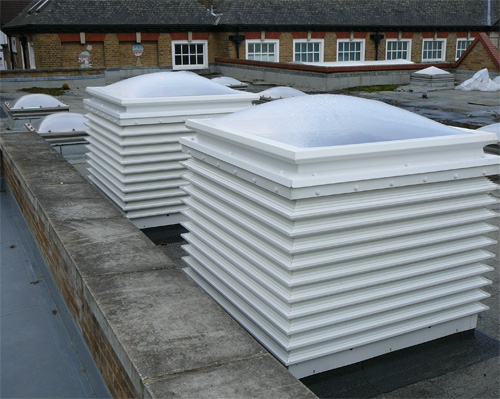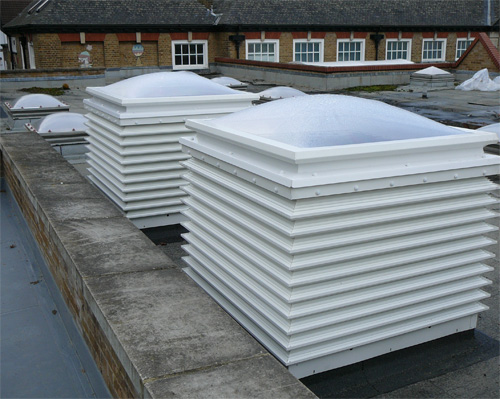 Gilberts Blackpool has continued its reputation for innovation by now combining a roof light into its rooftop penthouse terminal. The option is available with Gilberts' standard or bespoke designs, and encompasses glass or polycarbonate glazing to the roof top of the turret. It can be fitted in both new build and refurbishment schemes.
The company says the development means build and operational costs, and potential weak points on the roof, are all reduced, whilst the internal environment below still benefits from natural daylight and natural ventilation – both key requirements for eco-friendly strategies, particularly in schools. Gilberts' new concept has already been fitted at a number of projects including Liverpool University's Jordan Building, Athlone Institute of Technology and Sandringham School's sports hall.
Gilberts' range of roof turrets deliver air intake and/or extract as required, and can be manufactured to individual size requirements, from 300mm x 300mm x 300mm upwards and to bespoke designs (a 10m long special has been produced for one client). Customers have the additional reassurance with a tailored size or shape that Gilberts can fully validate the design before manufacture and installation in its in-house test facility.
As standard, they provide 50% free area, and are weather rated up to Class A. They can be tailored further with a range of internal partitions and dampers to enable full and accurate air control. Engineered from aluminium, the terminals can be powder-coated to any BS/RAL colour.