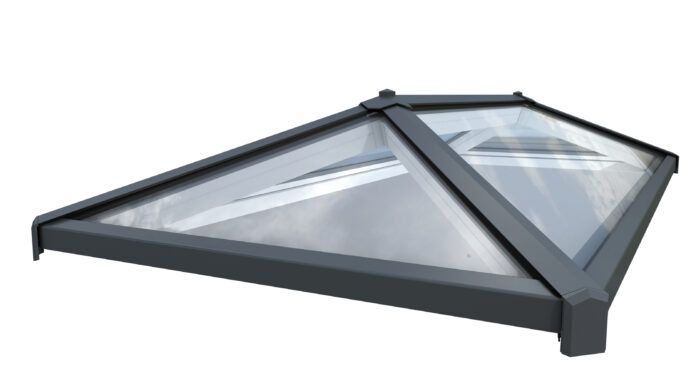 The Guardian Roof Lantern is the newest addition to Guardian Building System's exciting product portfolio, and combines leading thermal performance with quick, easy installation. The elegant, minimalistic design is the perfect solution to creating lighter and more spacious-feeling home spaces whilst also cutting the need for electric lighting. Made from machine-finished aluminium, it is strong and robust yet incredibly lightweight, ensuring it can safely be installed on any roof or home extension.
Every Roof Lantern is first manufactured by one of the dedicated Certified Fabricators in our network and prepared for a smooth and pain free installation. Taking less than 60 minutes to be constructed, the Guardian Roof Lantern uses impressive GUARD-Lock technology to secure and strengthen the structure. This unique 'click-fit' rafter system not only helps to allow the bars to lock in place easily, but alongside the immovable top cap and anti-tamper rafter screws it further bolsters the Roof Lantern's security.
The thermally broken design creates a secure enclosure, reducing heat transfer within the frame and providing excellent thermal performance; combined with the Guardian Roof Lantern also being available in double or triple glazing, the design cuts on heating costs compared to single-glazed rooflights. Not only this, but the Roof Lantern's sleek, ultra-thin 'V' profile enables homeowners to enjoy maximum natural light and unobstructed views in their aesthetic, modernised space.
The Guardian Roof Lantern is designed bespoke for each property and is available in a range of sizes and external RAL colour options.