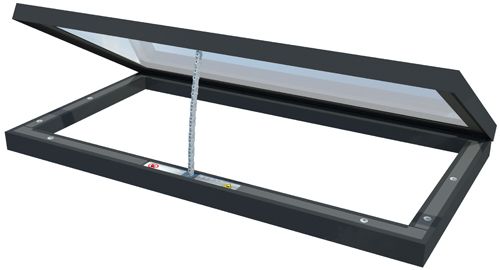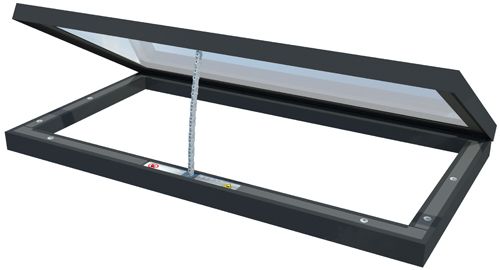 Roof Maker has announced the launch of a new Hinged Opening Flat Rooflight, which it believes to be the lightest and most energy efficient product of its kind on the market.
The company says its unique design incorporates industry-leading Heat-Mirror technology and a new generation high tech low-emissivity film, which reduces the weight of triple glazing by 33% for easy handling, increasing the potential to create larger glazed areas.
Designed to exceed Passivhaus standards, the Heat-Mirror IG units are constructed with British Standard triple safety glass and energy efficient low e glazing, delivering centre-of-glass U-Values as low as 0.3W/m2k.
The units combine with Roof Maker's super-insulated composite kerb design with its unique phenolic foam core, to achieve an overall product u-value of 0.6 W/m2k – which it claims to be the best on the market for any opening rooflight.
In addition to their energy saving performance, the glazed units include a 100% uv light block as standard to help protect furniture plus a Blue Tint option which will block over 95% of the sun's infrared (IR) heat transmission to reduce dazzle and overheating.
Roof Maker added that with its sleek satin black polyester powder coated finish and narrow profiles, this hinged rooflight has an attractive contemporary appearance. The heavy-duty actuators are neatly concealed within the kerb and the lid opens up smoothly via a wall mounted rocker or switch, remote control or rain sensor to allow natural air conditioning.
As with all Roof Maker skylights and roof lanterns, the new Hinged Opening Flat Rooflight comes with a 20-year unit seal warranty.
Chris Anthony, sales director at Roof Maker commented: "With its pioneering technology, this new generation of lightweight hinged openers sets new standards of energy efficiency, offering all round performance and value for money to customers."