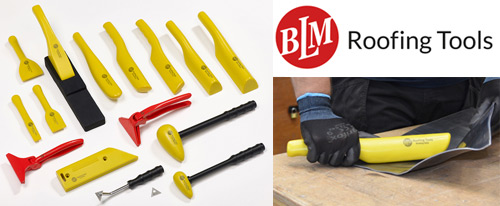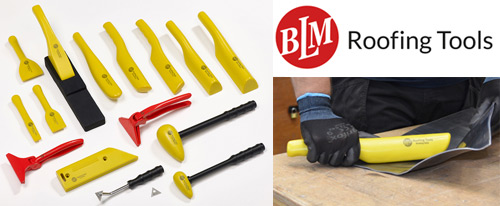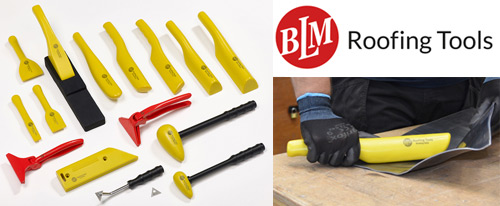 BLM Roofing Tools is a collaboration between BLM British Lead and Monument Tools. Both companies have worked together to create a brand that replicates its respective traditions and core values, to bring you the British-made specialist leadwork and roofing tools. The companies say they share a rich history and heritage in their industries dating back over 85 and 130 years respectively, and aim to build on existing strong reputations for product quality, outstanding service, knowledge and expertise.
BLM Roofing Tools strives to provide a comprehensive range of leadwork and roofing tools including lead dressers, shaping sticks, bossing mallets, chase wedges and many more. The range of tools is said to cater for all construction professionals, whether they are installing occasional flashings right through to complex leadwork detail. All BLM Roofing Tools products have been tried, tested and approved by the Lead Sheet Association (LSA) and come with a lifetime material defects warranty.
Russ Taylor, sales development manager at BLM British Lead, explained: "It was clear from our conversations with end user customers that no credible range of high quality leadwork tools were readily available. This followed a chance conversation with our friends at Monument Tools about supply and the development of the brand. Collectively we worked together with the LSA on R&D, which resulted in some tool handles being re-shaped to give extra clearance for knuckles as well as the development of new tools including the Bossing Mallets, Quick Flash Tool, Finishing Paddle and Lead Shave. The result of which is BLM Roofing Tools, which is its own trading brand but will be available to merchants as part of the BLM British Lead ancillary products range.
"The collaboration between us and Monument Tools was a natural fit. We share many things in common, particularly around product quality, service and expertise, as well as our vision for the future of BLM Roofing Tools as the leading brand for leadwork tools. The initial feedback has been extremely positive in terms of product quality, which is confidently backed up by our Lifetime Warranty against material defects."
BLM Roofing Tools aims to invest time to continually research and develop new high-quality specialist tools for the leadwork and roofing sector. Russ added: "The work doesn't stop here; we have an extensive list of new products we are developing that will add further depth and specialism to the range."